We just cut the cord, and glory is ours. I thought I would share how we did it to provide food for thought for those of you sick of cable (and maybe so people can stop bickering on my DirecTV blog post from years back).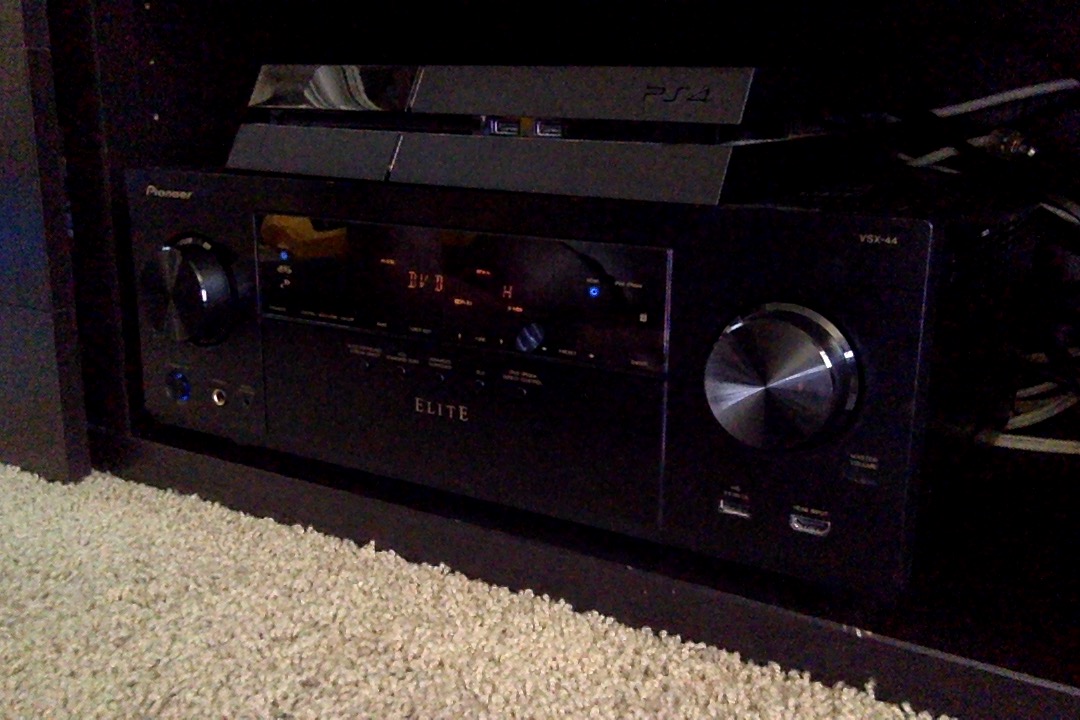 I will walk through the requirements we had, what we used to have, and what the new setup looks like.
Requirements
The requirements for us are fairly simple:
We want access to a core set of channels:

Comedy Central
CNN
Food Network
HGTV
Local Channels (e.g. CBS, NBC, ABC).

Be able to favorite shows and replay them after they have aired.
Have access to streaming channels/services:

Amazon Prime
Netflix
Crackle
Spotify
Pandora

Be able to play Blu-ray discs, DVDs, and other optical content. While we rarely do this, we want the option.
Have a reliable Internet connection and uninterrupted service.
Have all of this both in our living room and in our bedroom.
Reduce our costs.
Bonus: access some channels on mobile devices. Sometimes I would like to watch the daily show or the news while on the elliptical on my tablet.
Previous Setup
Our previous setup had most of these requirements in place.
For TV we were with DirecTV. We had all of the channels that we needed and we could record TV downstairs but also replay it upstairs in the bedroom.
We have a Roku that provides the streaming channels (Netflix, Amazon Prime, Crackle, Spotify, and Pandora).
We also have a cheap Blueray player which while rarely used, does come in handy from time time.
Everything goes into Pioneer Elite amp and I tried to consolidate the remotes with a Logitech Harmony but it broke immediately and I have heard from others the quality is awful. As such, we used a cheaper all in one remote which could do everything except the Roku as that is bluetooth.
The New Setup
At the core of our new setup is a Playstation 4. I have actually had this for a while but it has been sat up in my office and barely used.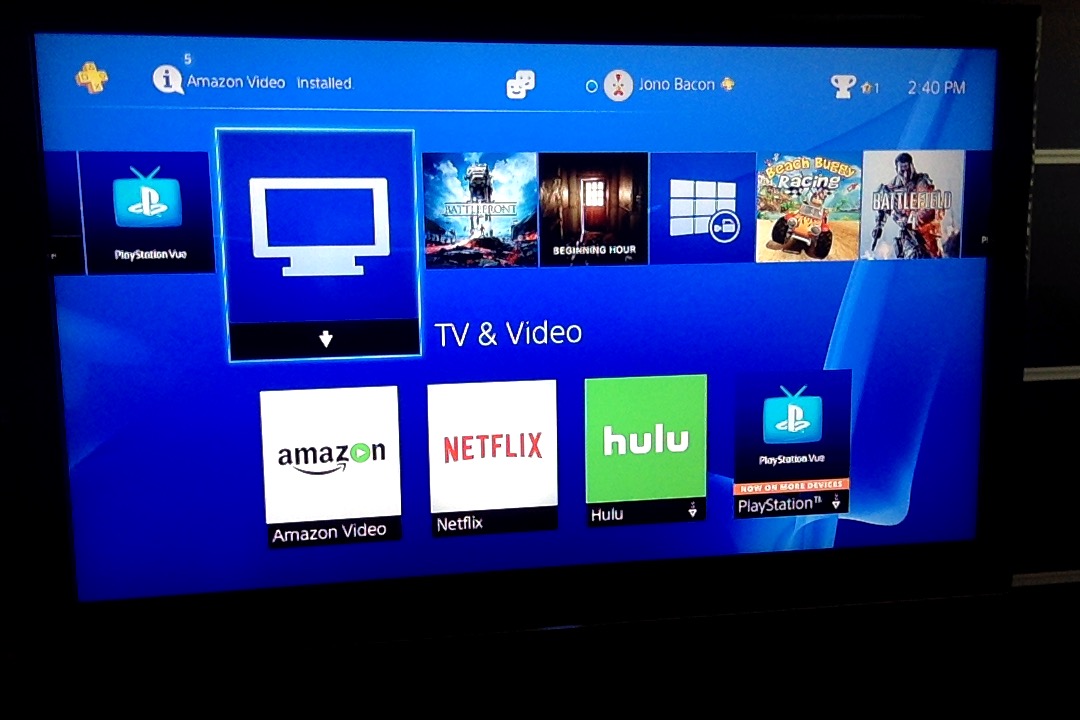 The Playstation 4 provides the bulk of what we need:
Amazon Prime, Netflix, and Spotify. I haven't found a Pandora app yet, but this is fine.
Blueray playback.
Obviously we have the additional benefit of now being able to play games downstairs. I am enjoying having a blast on Battlefield from time to time and I installed some simple games for Jack to play on.
For the TV we are using Playstation Vue. This is a streaming service that has the most comprehensive set of channels I have seen so far, and the bulk of what we wanted is in the lowest tier plan ($40/month). I had assessed some other services but key channels (e.g. Comedy Central) were missing.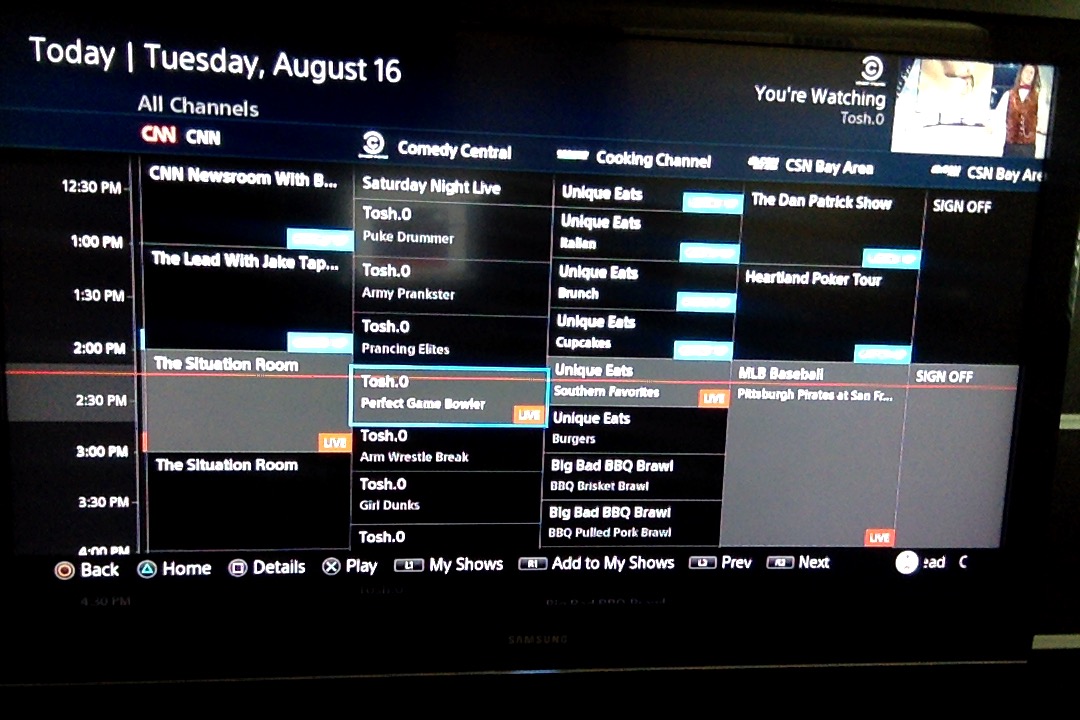 Playstation Vue has some nice features:
It is a lot cheaper. Our $80+/month cable bill has now gone down to $40/month with Vue.
The overall experience (e.g. browsing the guide, selecting shows, viewing information) is far quicker, more modern, and smoother than the clunky old DirecTV box.
When browsing the guide you can not just watch live TV but also watch previous shows that were on too. For example, missed The Daily Shows this week? No worries, you can just go back and watch them.
Playstation Vue is also available on Android, IOS, Roku and other devices which means I can watch TV and play back shows wherever I am.
In terms of the remote control I bought the official Playstation 4 remote and it works pretty well. It is still a little clunky in some areas as the apps on the Playstation sometimes refer to the usual playstation buttons as opposed to the buttons on the remote. Overall though it works great and it also powers my other devices (e.g. TV and amp), although I couldn't get volume pass-through working.
Networking wise, we have a router upstairs in the bedroom which is where the feed comes in. I then take a cable from it and send it over our power lines with a Ethernet Over Power adapter. Then, downstairs I have an additional router which is chained and I take ethernet from the router to the Playstation. This results in considerably more reliable performance than using wireless. This is a big improvement as the Roku doesn't have an ethernet port.
In Conclusion
Overall, we love the new setup. The Playstation 4 is a great center-point for our entertainment system. It is awesome having a single remote, everything on one box and in one interface. I also love the higher-fidelity experience – the Roku is great but the interface looks a little dated and the apps are rather restricted.
Playstation Vue is absolutely awesome and I would highlight recommend it for people looking to ditch cable. You don't even need a Playstation 4 – you can use it on a Roku, for example.
I also love that we are future proofed. I am planning on getting Playstation VR, which will now work downstairs, and Sony are bringing more and more content and apps to the Playstation Store. For example, there are lots of movies, TV shows, and other content which may not be available elsewhere.
I would love to hear your stories though about your cord cutting. Which services and products did you move to? What do you think about a games console running your entertainment setup? What am I doing wrong? Let me know in the comments!