Communities are rocking the world. Take the stress out of building them.
Around the world more and more companies and organizations are seeing the enormous potential of communities to create and maintain relationships, provide support, create content, deliver events, and much more. Salesforce, Fitbit, Harley Davidson, and Microsoft are just a few examples of companies building amazing communities.
What's more, with COVID-19 driving many businesses to online remote working, there is a greater demand to build internal communities too.
The challenge is that building communities is notoriously error-prone and time consuming. How do you do this efficiently and avoid the potholes in the road?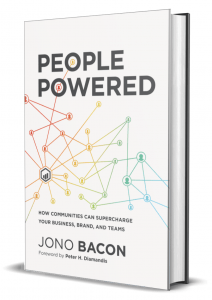 Well, back in November I released 'People Powered: How Communities Can Supercharge Your Business, Brand, and Teams'. The book delves into why there is a demand for communities and provides a comprehensive blueprint for how to create a community and integrate it into a business.
Importantly, the book also covers "what not to do" so you can swerve around many of the common mistakes and problems I have seen in my twenty-two year career and working with hundreds of companies and communities.
The book has been doing well, netting five star reviews on Amazon and four-and-a-half stars on Goodreads, winning a Business Book Awards 2020 award, and getting very positive reviews from press and readers alike.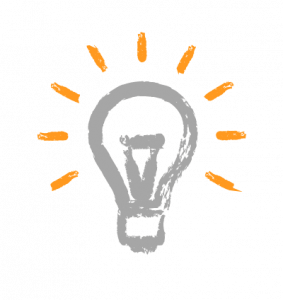 This is when an idea was conjured up by my friends Monica and Bill.
Wouldn't it be cool to read 'People Powered' together…as a community… and then meet each week where you can ask questions directly to me (Jono) and we can explore the material together?
Group learning is always more fun than sitting alone with a book and no-one to ask questions to.
It provides a place where you can explore ideas, ask questions, better understand the concepts, test ideas, challenge your assumptions, and overall grow and learn faster.
I freaking loved the idea, and the 'People Powered' Book Club was born.
What's more, it is entirely FREE to join.
The idea is devilishly simple.
When you sign up to join the book club (which is entirely FREE) you will be invited to join a Slack channel for our community. Here you can settle in, get to know everyone, ask questions, and have fun.
Each week we will all read the same chapter from 'People Powered'. This will keep everyone on a schedule, and as you are reading the book you are welcome to discuss it in the Slack channel with the rest of the community.
Then, each week on a Tuesday, we will all meet together and we will dig into the chapter. You can ask me (Jono) questions, we explore ideas further, discuss implementation, and more.
The entire book club will take place over 11 weeks (one week for each chapter).
This is going to be a fabulous opportunity for learning how to build amazing community. As part of the book club you will learn:
The Core Blueprint of a Community
Discover the core elements of what makes communities tick, the different community models, and how to build a community that maps to the needs of community members.
Create Your Mission, Value, and Audiences
Explore who your primary audiences are, and design a community experience that serves their needs, all wrapped around a core mission.
Create Solid Community Goals, Tactics, and Accountability
Learn a framework for creating community goals, collaborating with others to refine them, baking in clear metrics, and then breaking them into tactics with clear accountability.
Select Key Infrastructure, Tools, and Platforms
Discover not just how to select community tools and infrastructure, but also current best of breed tools to integrate into your community.
Building Effective Growth with Content, Social Media, Events, and More
Explore the primary drivers of growth and how to deliver content and social media with a high degree of success and optimization.
Build Engagement, Incentives, and Rewards
Learn the critical principles of engaging with your community, building retention, and delivering incentives and rewards to keep them participating.
Optimize and Evolve With Clear Community Metrics
If you are not tracking it, it doesn't exist. Learn how to approach metrics to not just track the right things, but also how to learn from those metrics and improve.
Joining is simple, and entirely FREE. Deadline for registrations is 2nd October 2020.
Simply pop your email and name into the box below:
REGISTRATION HAS CLOSED
In an Underrepresented Group? Get a FREE hardcover copy.
If you are in an underrepresented or untapped group, my friends at Discourse and I will send you a hardcover copy of 'People Powered' (including shipping) free of charge. We are passionate about supporting diversity and inclusion.
(Only available to those of you based in the USA)
Here is the complete schedule for the book club. 
2nd October 2020
Registration Deadline
Tues 6th October 2020 at 9am Pacific
Chapter 1:
What is a Community and Why do you Need to Build One?
Tues 13th October 2020 at 9am Pacific
Chapter 2:
Consumers, Champtions, and Collaborators
Wed 21st October 2020 at 9am Pacific
Chapter 3:
Build It and They (May) Come
Tues 27th October 2020 at 9am Pacific
Chapter 4:
Humans Are Weird
Tues 3rd November 2020 at 9am Pacific
Chapter 5:
Create an Incredible Adventure
Tues 10th November 2020 at 9am Pacific
Chapter 6:
What Does Success Look Like?
Tues 17th November 2020 at 9am Pacific
Chapter 7:
Glue People Together to Create Incredible Things
Tues 24th November 2020 at 9am Pacific
Chapter 8:
Mobilize Your Community Army
Tues 1st December 2020 at 9am Pacific
Chapter 9:
Cyberspace and Meatspace: Better Together
Tues 8th December 2020 at 9am Pacific
Chapter 10:
Integrate, Evolve, and Build
Tues 15th December 2020 at 9am Pacific
Chapter 11:
Onward and Upward
Wrap Up
Frequently Asked Questions
Who can apply for this?
Everyone is welcome to apply from anywhere in the world. There are no restrictions.
How much experience do I need to have?
No experience is required.
What countries can people apply from?
Anyone is welcome to apply from anywhere in the world. Please note: the training sessions are generally in the morning in a Pacific timezone. Be sure you can attend the sessions from your location.
Do I need to own 'People Powered' book to join?
You don't need to own it (you could borrow it from a library), but you do need to read it.
The book club won't be much value for people who are not willing to read the book: the sessions will focus on the content in 'People Powered'.
How do you recommend I read the chapter each week?
The best approach is to make time for reading in your calendar and stick to it.
For example, pencil in an hour in the mornings before you go to work or an hour in the evenings before you go to sleep.
This will ensure you have the time to sit down with 'People Powered' and a coffee and read each chapter. 
Do I need to read a chapter a week?
Yes, that is the goal. I know this might sound like a lot, but the chapters in 'People Powered' are relatively short.
How much does this cost?
Nothing. 🙂 This entire book club is free to participants.
Do I need to join all sessions?
Ideally, you should join all the discussion sessions: it is designed for active participation. There may be some sessions though that you can't join. In those cases, you can watch the recording of the session.
I can't join the sessions at the scheduled times, can we change the times?
Unfortunately not at this time. I want to ensure the book club is available to a global audience, and the current times are designed to serve as broad an audience as possible. Now, some times will not work for some people. There will be video recordings of the sessions though which you are welcome to play back.