*Exclusively for

influencers, marketers, community leaders, entrepreneurs, and coaches*
Does Your Search History Look Like This…
…Yet you still don't know how to build your audience?
Would you like to Get A Proven Multi-Platform Content System For Building a Devoted Fanbase, Getting More Subscribers, And Loyal Customers…
…no matter the content platform or medium, even if you're starting from scratch?
Jono Bacon featured in: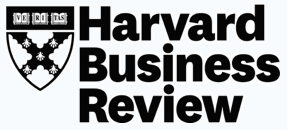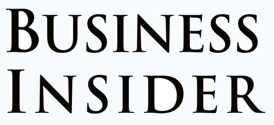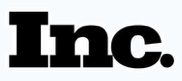 Are you ready to build an engaged audience on…
… Youtube, Instagram, LinkedIn, Facebook, Twitter, WebinarJam, Mailchimp, Twitch, and other platforms?

Most importantly, are you ready to get more followers and subscribers, who'll not only keep coming back for more content…
…but will also buy your products, services and follow your ideas?

Then read on because you're about to discover the multi-platform content production approach I've used to become a best-selling author, collaboration speaker, and podcaster…
And not only does it work for me…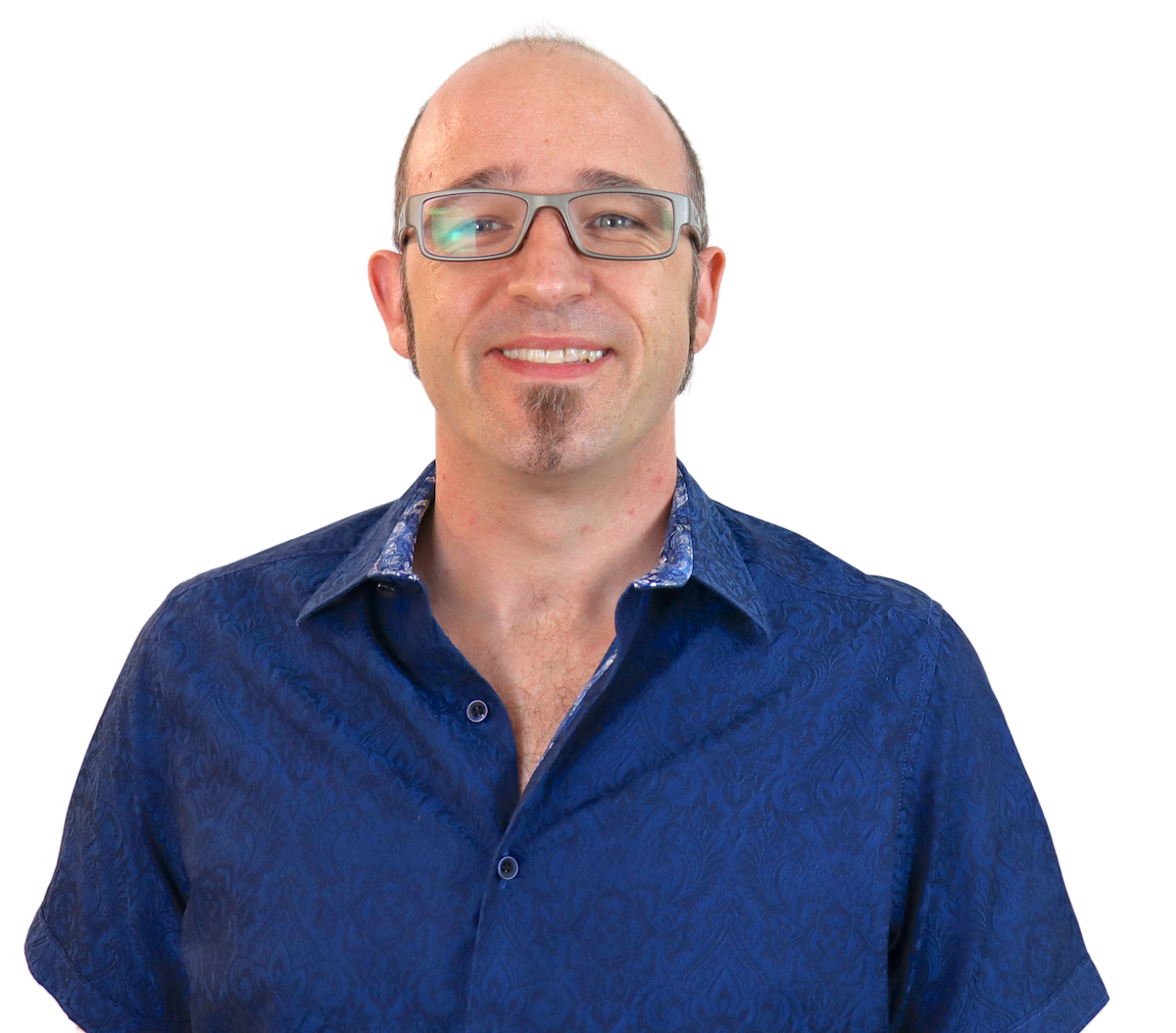 I've also used its core principle to help grow all kinds of different companies such as: …but now for the first time I've decided to apply it to creating ''magnetic'' online content…
It'll allow you to get fans, traffic, sales, and engagement…

…no matter the social media platform, or content medium you use…
Now I am a no B.S. kind of guy so let me set this straight…
"Frankly, there's nothing 'new' about any of my methods, they require hard work and consistency…
… and it could be a while before you see results.
But, they've helped me build a hyper-responsive email list, and a social media follower base of loyal, eager-to-buy & quick-to-refer followers.
And they will help you build an audience, too. That is… if you have patience, and if you aren't allergic to hard work!
If you are okay with building an engaged audience that slowly & gradually swells up over time with loyal new fans eagerly & hungrily fueling your company or brand…
…then read on and I will show you how.

Here's just a quick example of the power of this approach.

I put together a collection of emails carefully designed for my target audiences and in my stages of experimenting with email marketing, instead of the industry average 23% open rate and 3% click rate I saw a very different picture.

Here is a screenshot from a few months in: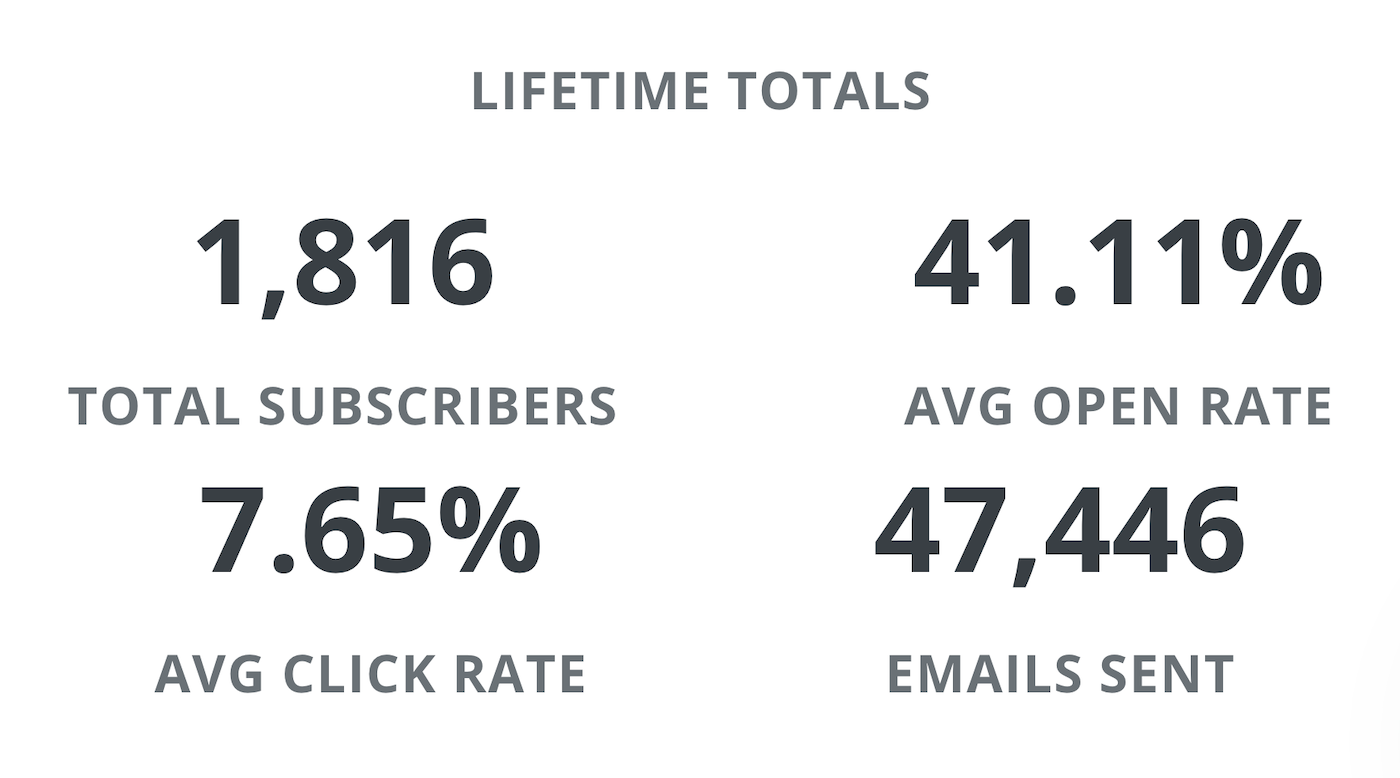 The content production principle you're about to discover flies in the face of what you've been told before…

You'll be able to apply it to all major platforms such as Youtube, Instagram, LinkedIn, Facebook, Twitter, WebinarJam, Mailchimp, Twitch, and so on…

But before we get into details, it's important to know who this course is NOT for.
It is NOT for you if you don't have time for building and executing a content strategy.
It is NOT for you if you don't like developing long-term relationships.
It is NOT for you if you don't want to produce high-quality content, which helps your audience.
It is NOT for you if you're just dabbling with content creation and don't see yourself sticking with it.
It is NOT for you if you enjoy the scatterbrained, ''throw-stuff-at-the-wall'' approach…

But, this course is 100% for you if…
You LOVE the idea of transitioning from a ''nobody'' who hears crickets every time you post a new piece of content to becoming a well-known online personality/brand whose audience is eagerly awaiting your next product launch, merchandise offers, or posts….
You LOVE  developing genuine, long-lasting online relationships…
You LOVE the idea of increasing your income and scaling your operation…
You LOVE the idea of having a clear structure for building an engaged audience on EVERY major content distribution and social media platform out there.
Because there are no ''quick secrets'' to get an audience to love all your content in 30 days…
There are no ''algorithm hacks'' which will make your content go viral…
There are no shortcuts.

Period.
What there is however, is a fundamental methodology for creating a content strategy that actually WORKS.
I discovered it back in 2006 when I joined and started building out the Ubuntu community.

The approach we used and I still use to this day has helped grow multiple successful businesses…

And it isn't a trick…
While it'll allow you to build an almost magical relationship with your audience in a way only business leaders, influencers, TV stars, and musicians have been able to…
…it will take persistence!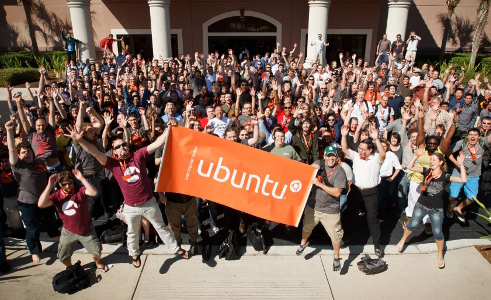 This approach is built on one of the core pillars in my best-selling book "People Powered" – the BUSINESS BOOK AWARDS WINNER, which features Emmy Award–winner Joseph Gordon-Levitt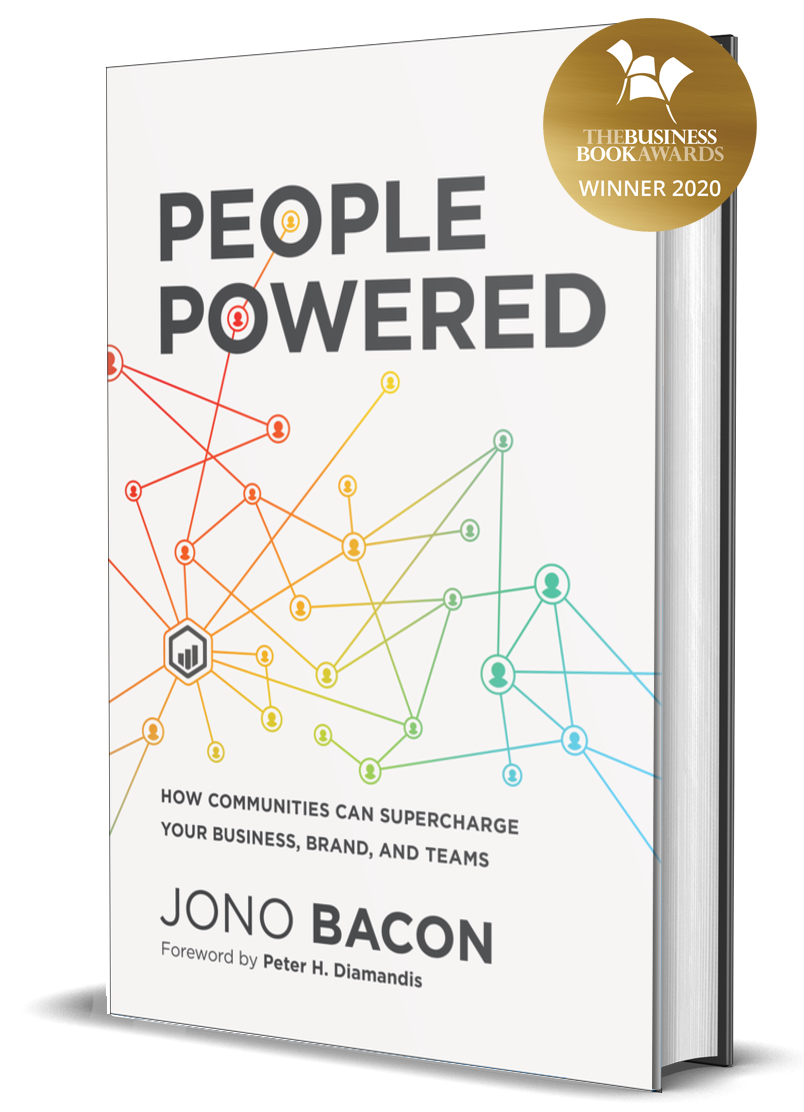 While "People Powered'' is about building communities, its principles are completely applicable to building online audiences for your content.

And now for the first time, I've taken the lessons from not just my book, but my entire career, and applied them to online content creation and creating audiences that are excited to soak up what you have to share.
Here's what others have said about my book
"If you want to unlock the power of collaboration in communities, companies, and teams, Jono should be your tour guide and 'People Powered' should be your map."
"Jono Bacon's book provides timely insight into what makes us tick as humans, and how to build richer, stronger communities together."
"If you don't like herding cats but need to build a community, you need to read 'People Powered'."
"If you want to harness the power of your customers, 'People Powered' should be the first book you open. Highly recommended."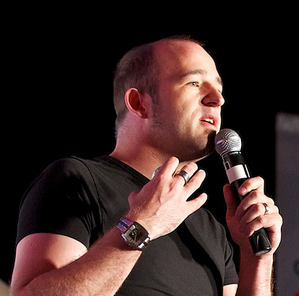 Hey, I am Jono…

During the past 20 years, I've seen plenty of success as well as failure when creating and executing an engaging content strategy for myself and others…
And despite what you've heard, the numbers, the media, or the platform you use doesn't matter anywhere near as much…

…as the individuals, you're connecting with…

You see, I discovered this audience-building framework years ago when I helped to grow Ubuntu (an international open-source operating system)…

My role was attracting people who would actively invest their time, energy, and expertise, to contribute to Ubuntu…
…without getting paid.

As you can imagine, getting people to work for free can be a more complicated task than building a social media following, but the mechanics are almost the same…

… because your fans will be happy to support you when you apply the principles I'll cover in a second.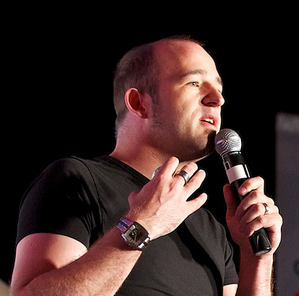 Let Me Demonstrate The Power Of What You're About To Discover
Meet Abayomi, an active contributor to Ubuntu…

…he sent me an email me back in 2007 and I was surprised when I found out he was a kid living in a small, rural village in Africa!

He told me he would perform chores around his village all week to earn as much money as he could….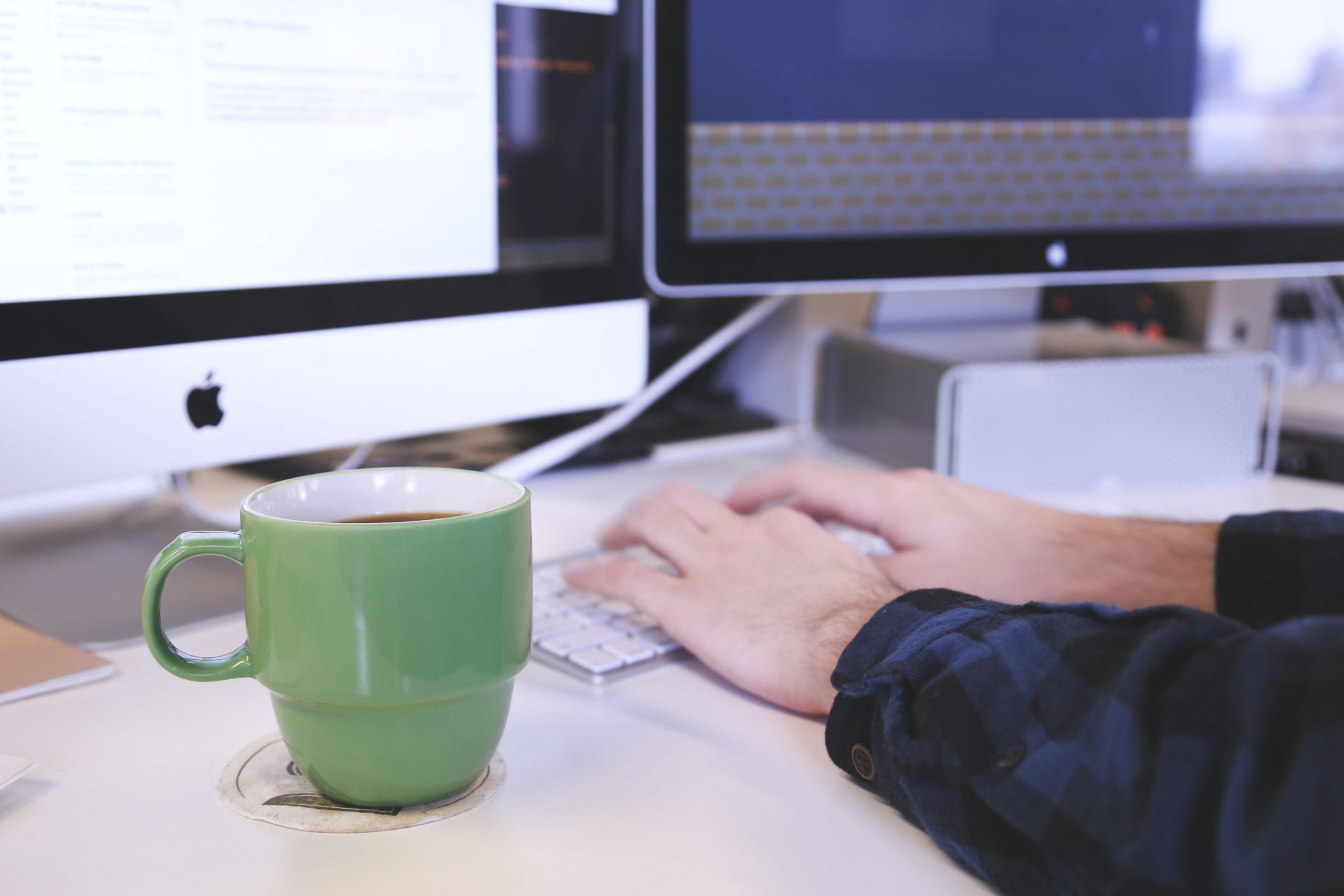 …so he could walk two hours to his local town and use the money he earned to buy time at an Internet cafe to participate in the Ubuntu community…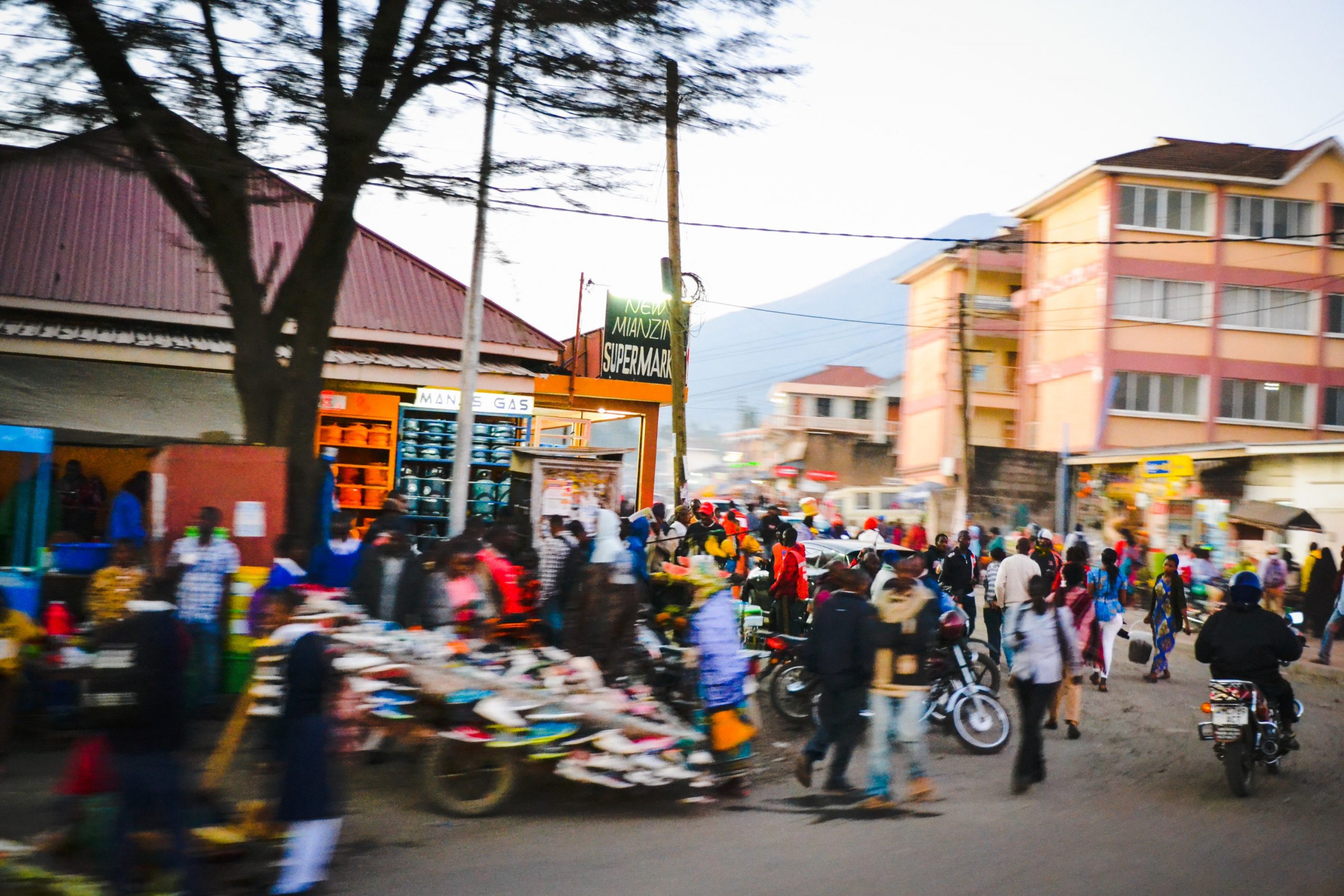 After an hour of helping to make Ubuntu better, he walk walk two hours back home.
I was absolutely shocked…
…it was a perfect example of the power of the strategy you're about to discover…

At the time I didn't understand what made him so invested in the Ubuntu community, but I knew then and there that my life's work would be to understand every damn nuance of how this cocktail works…
…and this is what I want to share with you.
Here's why most brands and companies are struggling to build a loyal audience…
It's really, embarrassingly simple…
You see most aspiring content creators are asking the wrong question…
While I'll reveal the question in a second, here's where this question leads them:
×  They're working their backsides off and only moving forward one inch at a time…
× They feel overwhelmed and are struggling to course correct when they don't see results…
×  They're quickly losing steam because they're not seeing any ''real'' progress (most give up)…
×  They keep asking themselves if they should just ''keep on keeping on''…  but deep down they're scared of wasting another year on producing content that goes nowhere!
×  They will post video after video, blog after blog, post after post, but they won't have the results they want. Imagine spending a year investing time and energy and not getting any traction…
×  They read books about getting more subscribers yet the outdated info keeps them running in circles…
×  They learn from overhyped, plastic-haired, cringeworthy marketing gurus who've succeeded by spouting unrealistic claims and selling very expensive, low-quality courses…
×  They focus on simple tactics and tricks but lack a fundamental understanding behind the psychology of engaging content and how it is created…
×  Basic no-brainer strategies available for free online are getting them nowhere…

×  They constantly struggle with coming up with new content ideas… and when the ideas come up they can't bring them to life.
Sounds familiar?
I am here to show you that it is all because of this seemingly innocent yet insidious question…
''How Do I Get More Views/Followers/Subscribers?''
Here's why asking this question leads to failure… Recall, the last time you watched a funny video on youtube.

…. perhaps you watched a funny cat video with 15,000,000 views – yet you have no idea who posted the video (obviously not the cat!)
So why do some content creators have millions of views and subscribers, yet are poor and generally unrecognized…
…while others have just 10,000 followers and have established a full-time living?
You've probably also seen someone with 5,000 subscribers, whose content addresses a smaller crowd – yet their audience keeps viewing their content and supports them.
You know what's the question they're asking?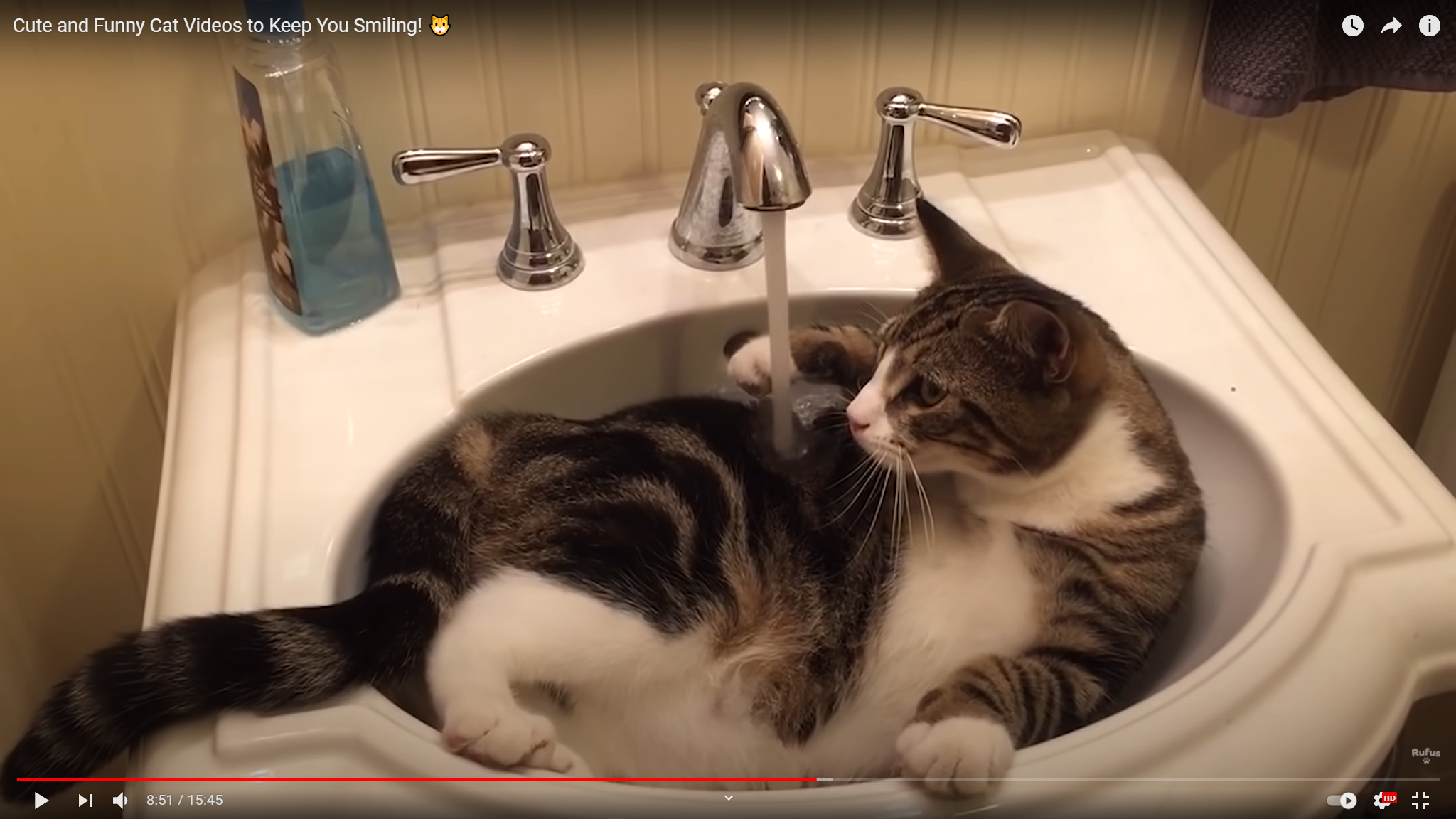 ''How Do You Build An Authentic Relationship With Your Audience?''
After years in the trenches, I noticed that there are no ''hacks'' and "tricks"  for delivering powerful content for your audience and building genuine relationships.

You have probably seen the Internet, YouTube, and other places littered with bold promises about "secrets to get subscribers/followers/views with content".
Here's the deal: these hacks may deliver short-term results, but they simply don't scale.

Now, why did our friend from Africa, Abayomi, who didn't even have a computer become so eager to contribute to the Ubuntu community?
Because Ubuntu had created a shared environment where members can build relationships with the company and each other…
If we don't build a firm foundation of delivering content that empowers our audience and builds a relationship with them, then these "hacks" and "tricks" are like putting lipstick on a pig.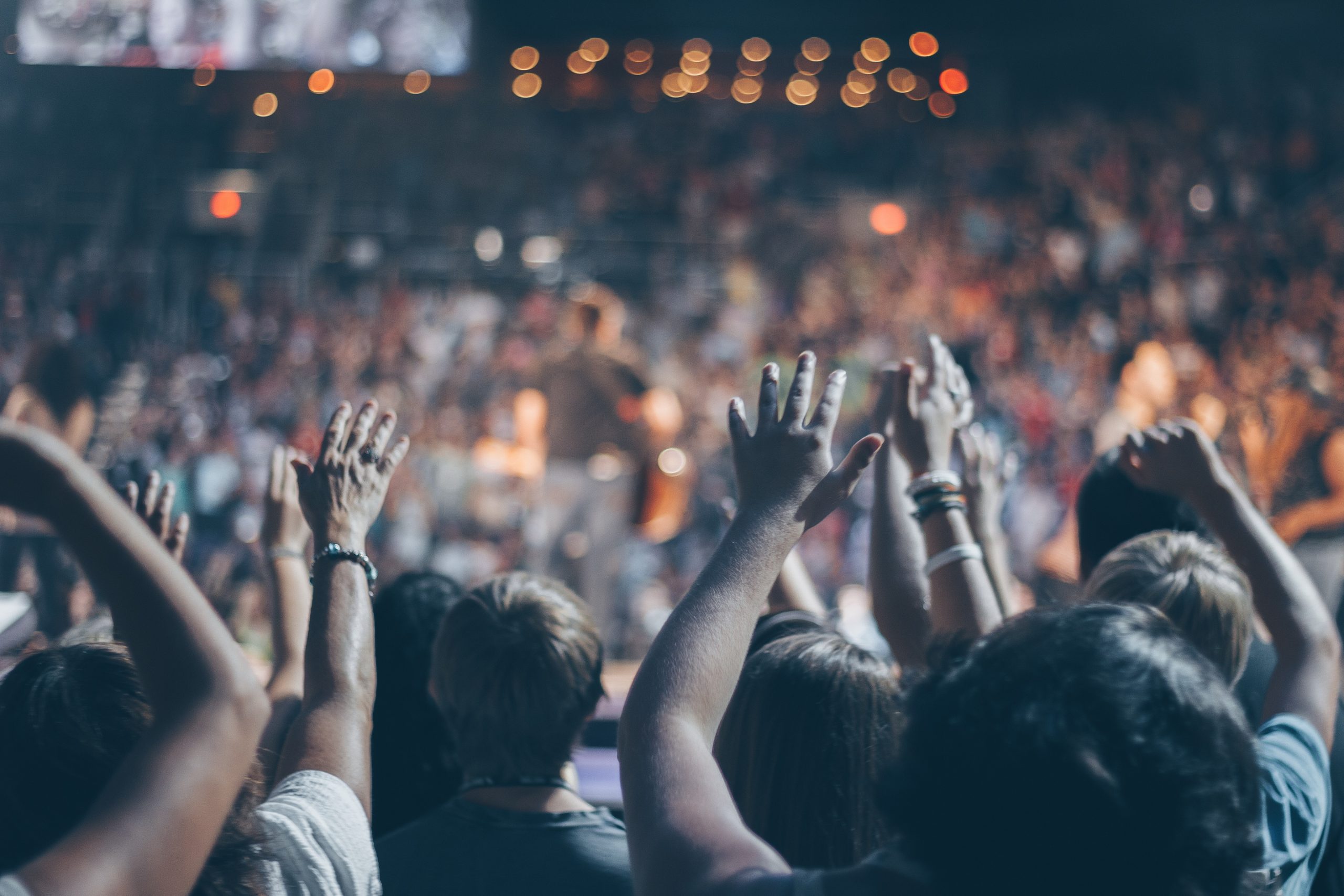 This is the backbone of how I approach teaching delivering amazing content:
1 – clearly understand our audience and how we can solve their problems,
 2 – deliver amazing value that makes their life better,
 3 – grow a relationship and build trust with them, and
 4 – do all of this not just efficiently, but creatively too.
This isn't about hacks and shortcuts…it is about building real value and real relationships.

This won't just get you better results but it will build lasting loyalty and respect in your audience.
''Ready for a sneak peek to see what's waiting for you?''
Introducing…


The Complete Content Course
The Complete Content Course is by far the most comprehensive content creation system available on the market. It takes you, step-by-step, through the complete process of building a productive, efficient content strategy that will captivate your audience and their attention.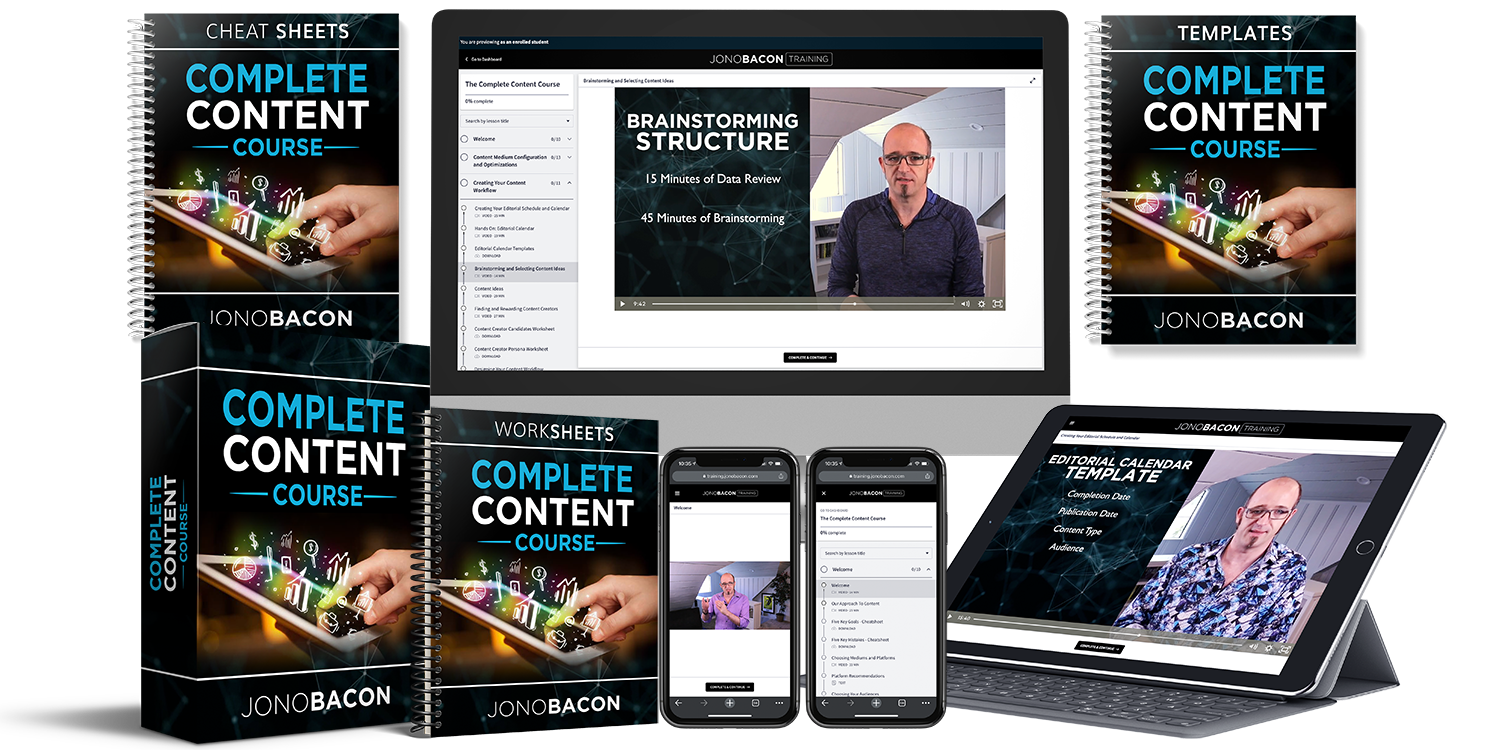 It covers every content medium, the biggest social media platforms, AND content distribution channels.
At the end of the course, you'll have your audience-building strategy… and instead of paying for a separate course on building an audience on each of the major social media and content distribution platforms, you get to learn it all in one place!
HERE'S HOW IT WORKS!
Step 1: Develop Your Overarching Content Strategy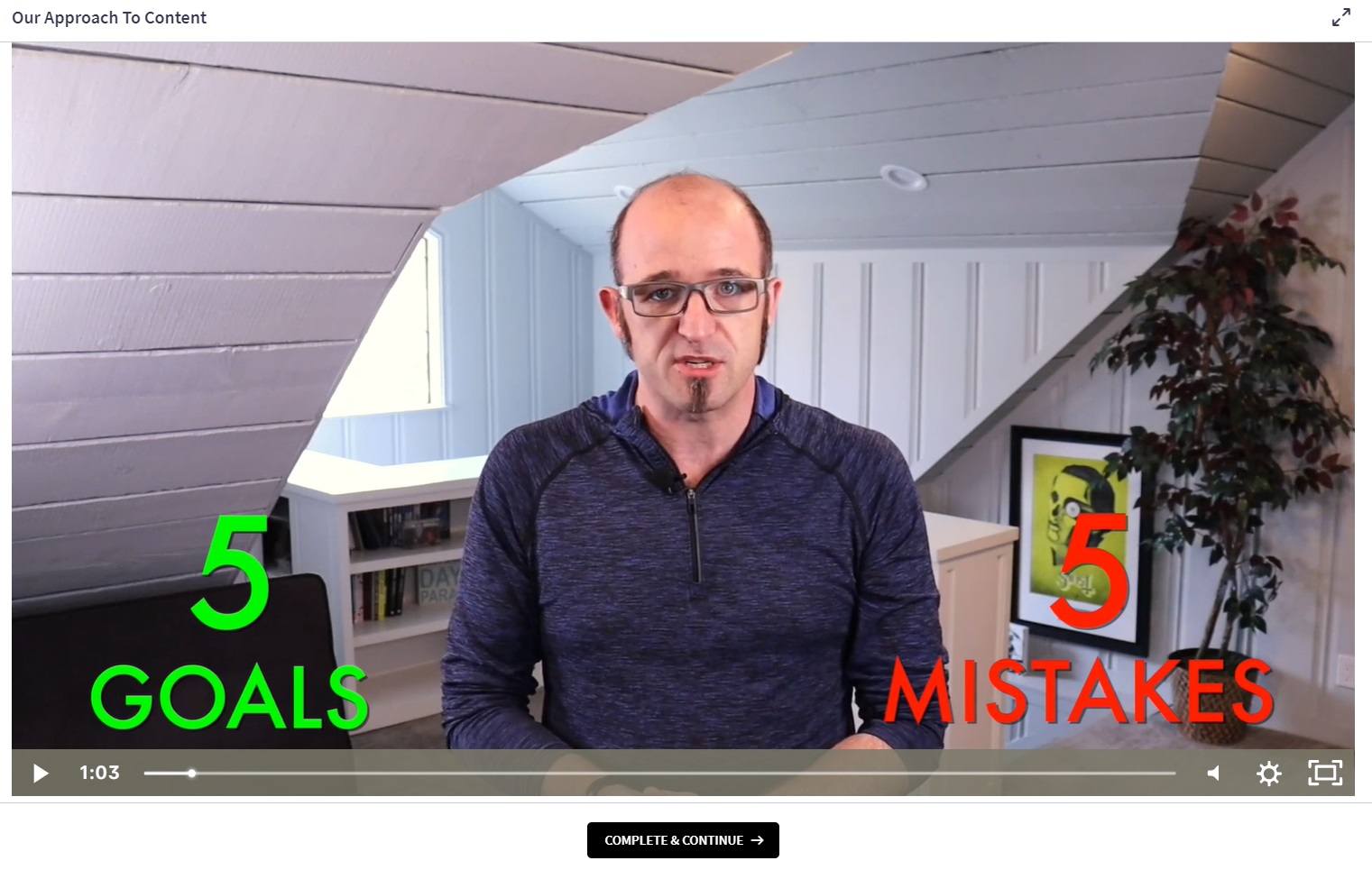 This is where you'll create the overarching strategy for building a loyal audience that is supporting you, your offers, and your brand.
Step 1 is the core of the relationship-geared content production process. Sure, tactics help, which we cover extensively in the course too, but the strategy is the glue that holds them together and guides you towards success.
Step 2: Set Up Your Content Distribution Mechanism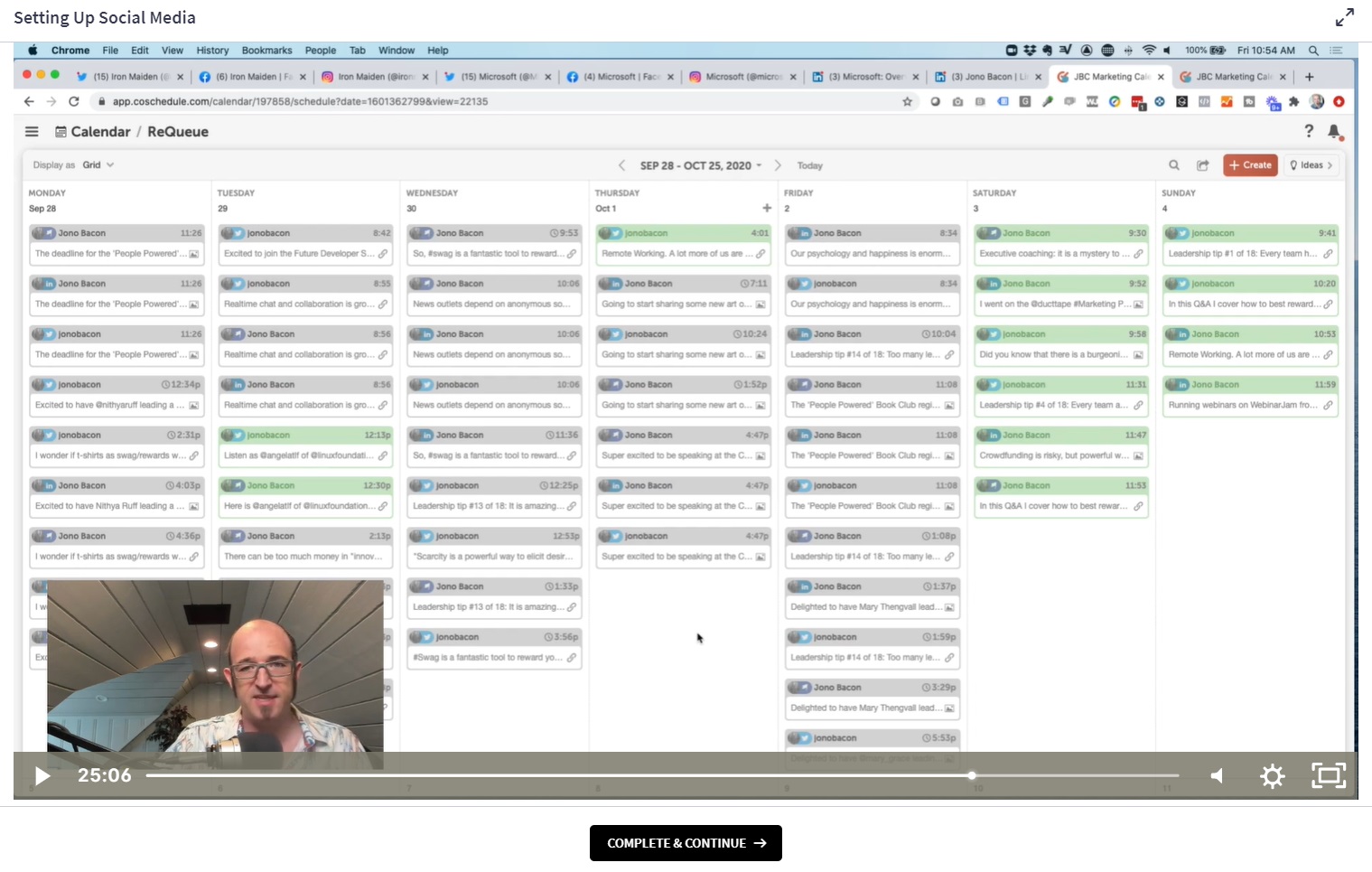 This is where you go from high-level strategy to set up your content foundation.
You'll get practical, ''nitty-gritty'' advice you can put into practice TODAY, which most content marketing courses tend to skip.
At the end of this section, you'll have built the proverbial veins through which you'll pump your content straight to the hearts of your audience.
Step 3: Create Your Content Workflow Structure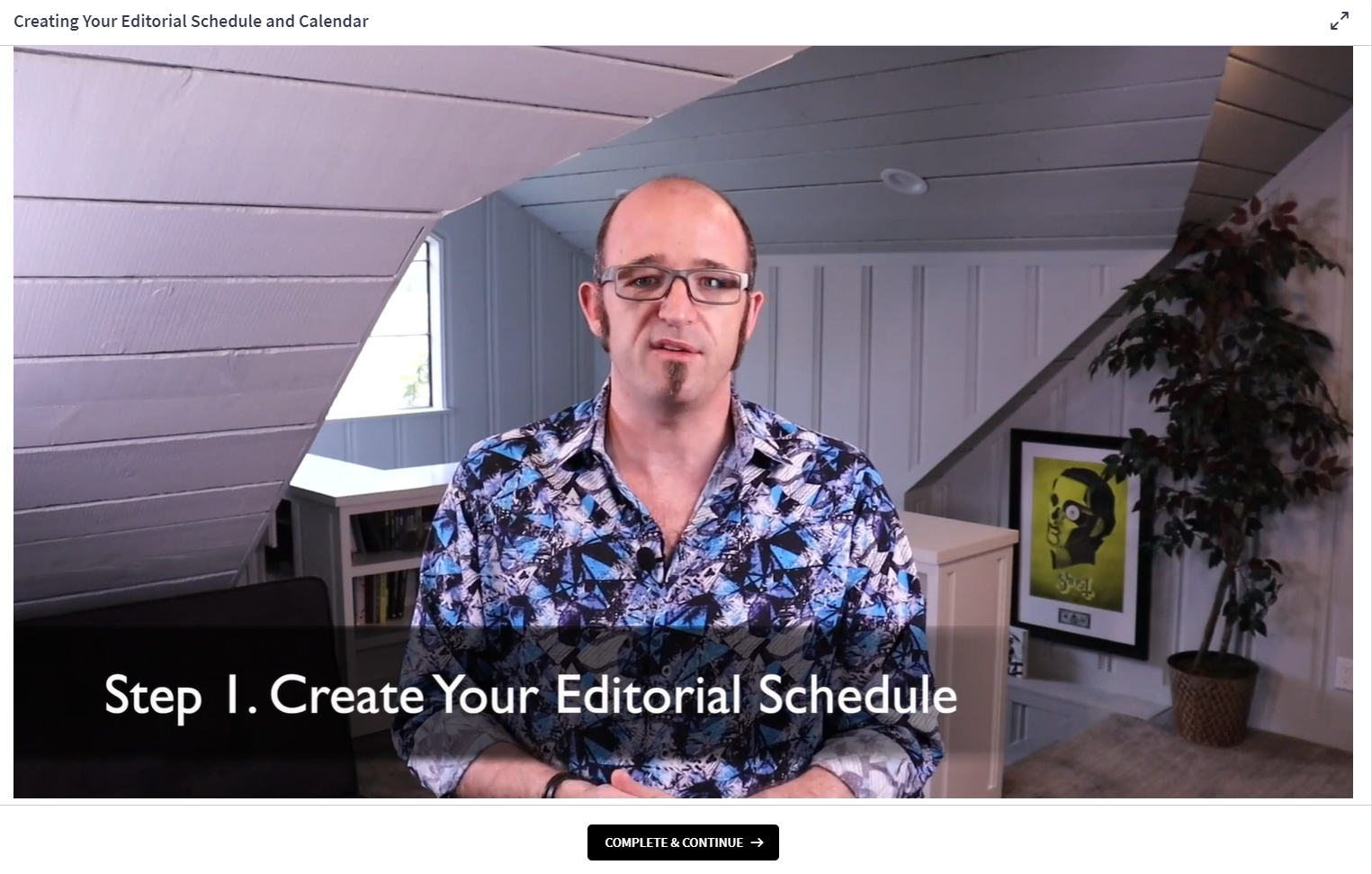 This is one of the most undervalued steps when it comes to content creation. Most companies and content creators who are struggling with building an audience are vastly disorganized. The theme here is consistency.

There are 2 ways you can ensure a consistent workflow – either you've got to be a very disciplined person or you've got to have an editorial schedule. Here I show you a simple and powerful editorial workflow, and help you build the discipline to get the best of both worlds.

Here we'll cover:

Creating Your Editorial Schedule and Workflow

Hands On: Editorial Calendar

Editorial Calendar Templates

Brainstorming and Selecting Content Ideas

Content Ideas

Finding and Rewarding Content Creators

Hiring Content Creators

Content Creator Candidates Worksheet

Content Creator Persona Worksheet

Designing Your Content Workflow

Hands On: Content Workflow Examples

Content Workflow Worksheet
Step 4: Create and Promote Your Content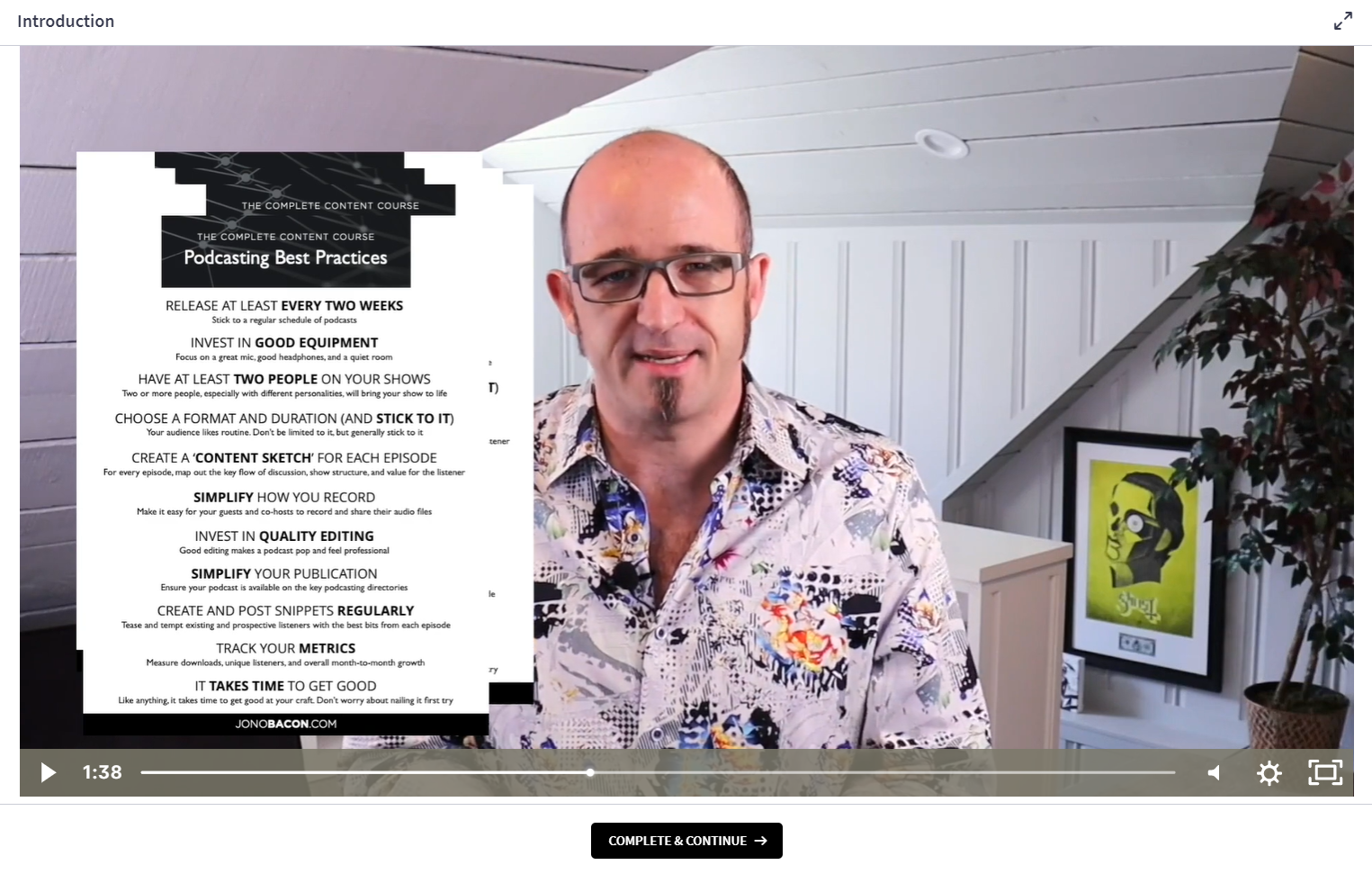 In this section of the Complete Content Course, I cover how to create compelling, high-quality content based on the mediums you chose in Step 2.
This is where I  share the best practices the pros use across all the content mediums covered in the course. We'll look at the principles and practical examples of how to create and promote valuable content.
Here we'll cover:

Introduction

Blog Content Best Practices

Hands On: Creating Blog Posts

Blog Best Best Practices Cheatsheet

YouTube Best Practices

Hands On: Creating YouTube Videos

YouTube Best Practices Cheatsheet

Social Media Best Practices

Hands On: Creating Social Media Content

Social Media Best Practices Cheatsheet

Webinar Best Practices

Hands On: Creating Webinars

Webinar Best Practices Cheatsheet

Email Content Best Practices

Hands On: Creating Emails and Content

Email Content Best Practices Cheatsheet

Promoting Your Content
Step 5: Measure And Optimize Your Content Strategy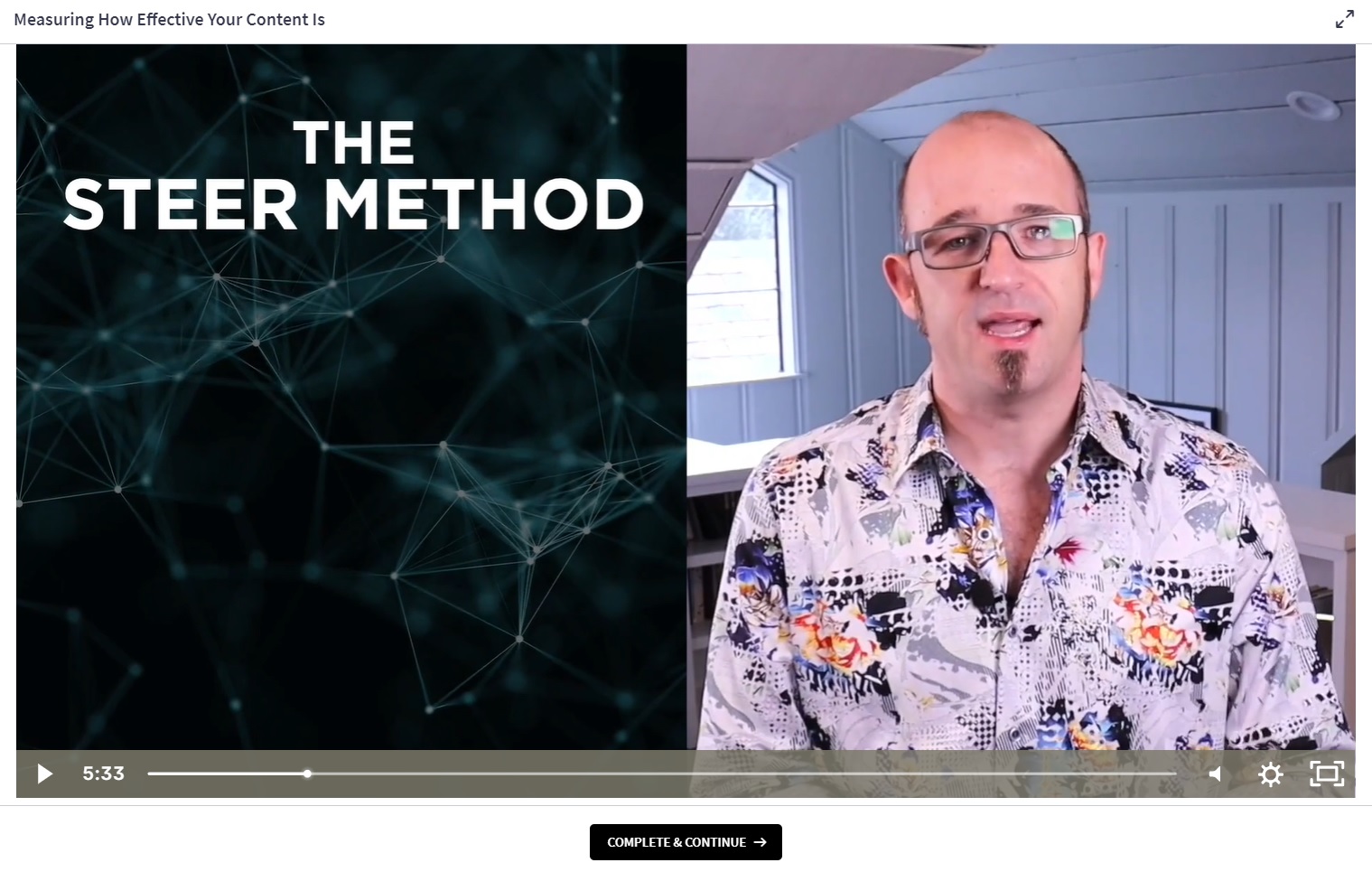 Measuring your work is absolutely critical for understanding what your audience loves and fine-tuning your content mechanism for maximum efficiency.
You'll also learn how to repurpose your content as much as possible, so you squeeze more value out of you content, and achieve more while doing less.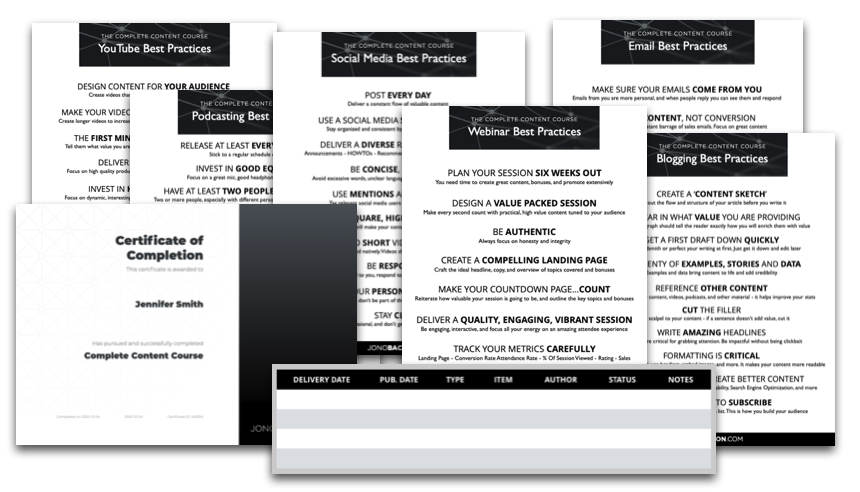 Interactive Quizzes
Seal in your learning with interactive quizzes that cover the different topics featured in the course.
Worksheets, Templates, & Guides
The course is packed with worksheets and templates that you through every step of creating a powerful content system. There is also additional material and content to further guide your content journey.
Cheatsheets
Downloadable, printable cheat sheets help to keep key principles and best practices front of mind. You can also print these out and put them in your office, room, or anywhere else.
+
Completion Certificate
When you complete the course, you get a downloadable certificate to share on LinkedIn, social media, and beyond.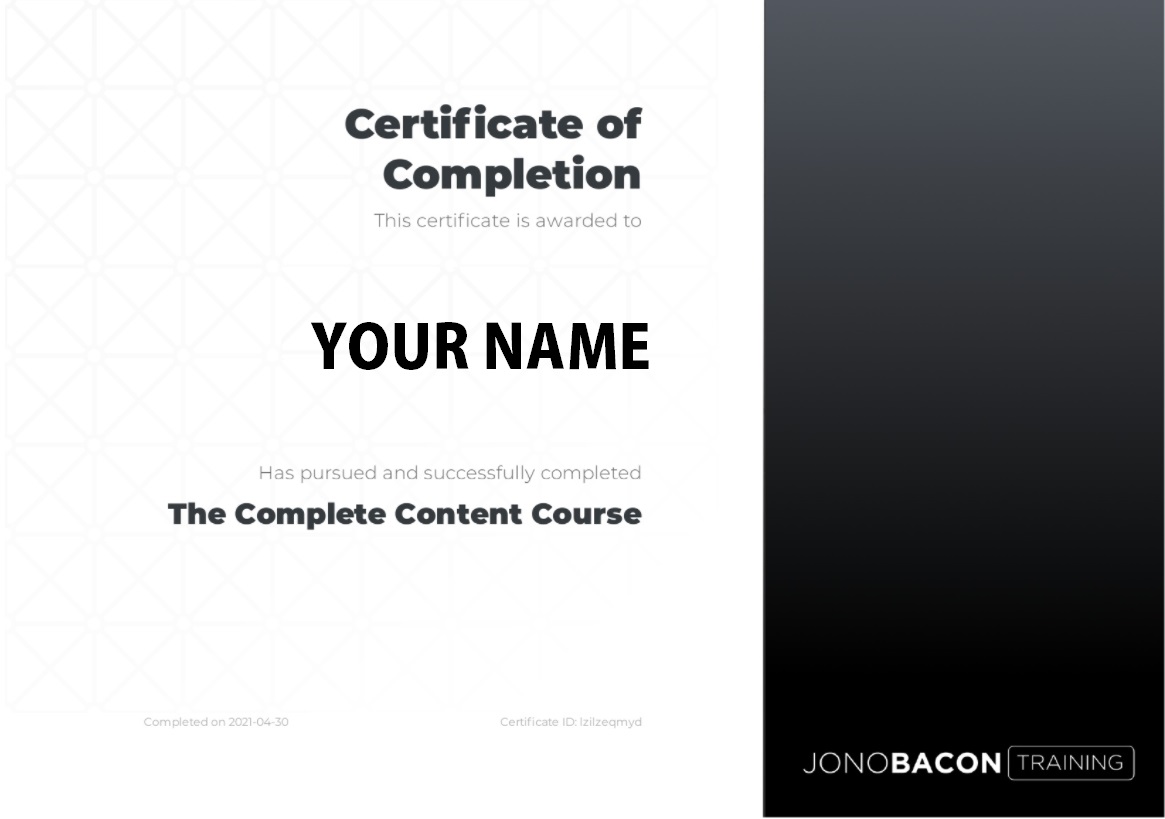 BONUS #1
:
Two full e-books: Powered and The Art of Community (worth $60)
You will get e-book copies of my two most recent two books, 'People Powered: How communities can supercharge your business, brand, and teams', and 'The Art of Community' – both books show you how to build a powerful community around your business or organization.
This is a fantastic companion to the Complete Content Course. One of the most powerful ways to build an engaging audience is to create a community, and these two books are a complete toolkit for building amazing communities.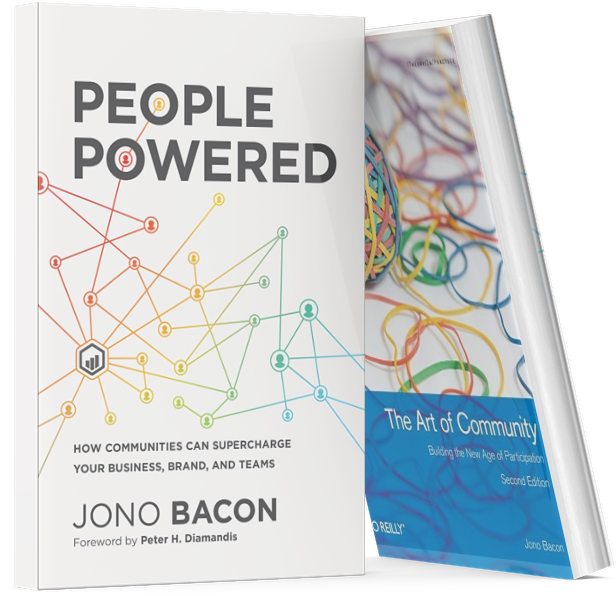 BONUS #2: Access to Email Deep Dive Training Session (worth $80)
Email is a hugely powerful way of building an audience, building relationships, and selling products and services.
This bundle includes access to my 1-hour deep-dive training session for how to do email well. I covers how to approach building an email list, the key elements of great content, how to build engagement and commitment, and much more.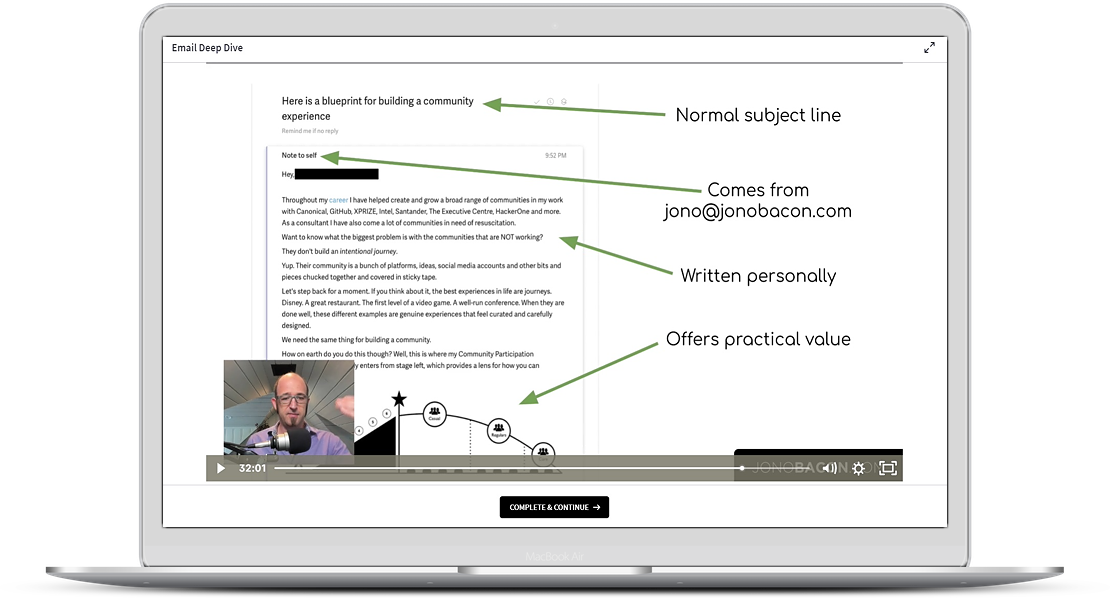 BONUS #3
:
Creating Progress Reports Without The Pain (including a Template)
Nobody likes writing progress reports, but they're important to improve the efficiency of your operation. This bonus training video and template will allow you to write progress reports without the pain, so you can keep everyone updated in the most valuable, least time-consuming way possible.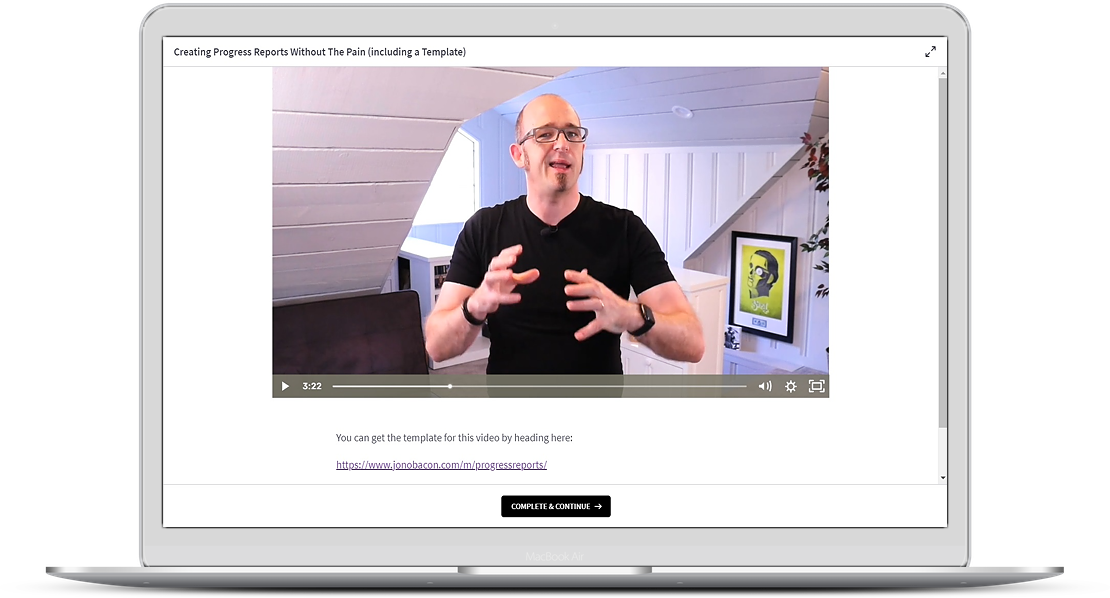 BONUS #4: Building Healthy Habits Training
Get a practical 5 step approach for building healthy habits, so you can reach your health, wealth, relationship, or content goals, without falling into a pattern of laziness.

Spoiler alert – it's not the vague, woo-woo self-development waffle you're tired of hearing. I'll give you a concrete method for making your habits stick, without downplaying how difficult it can be.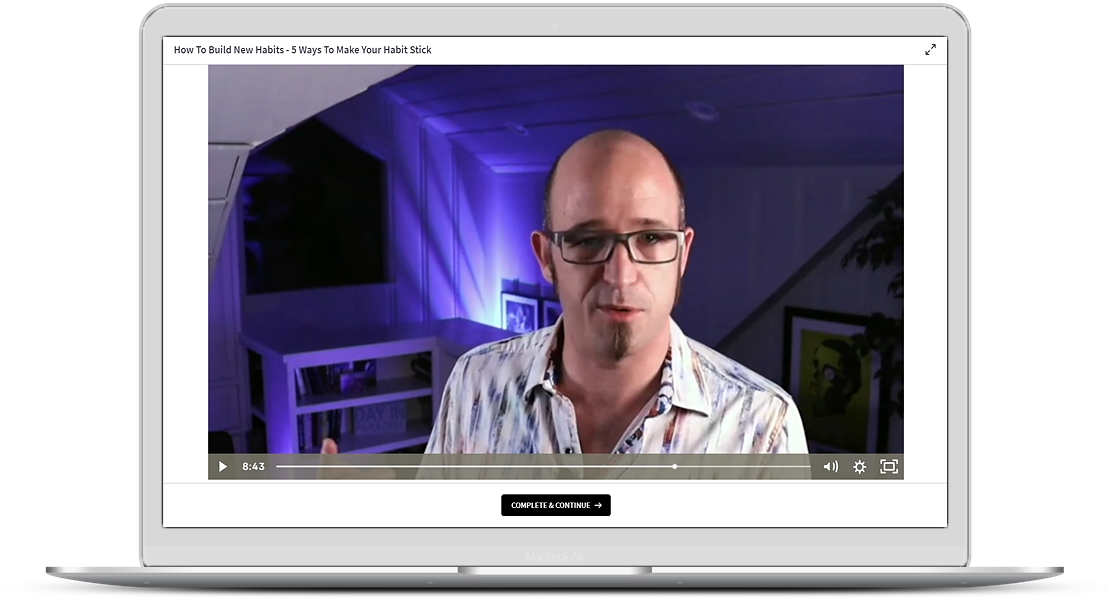 BONUS #5: The Complete Content Ideas Kit (worth $300)
Do you sometimes struggle with coming up with creative ideas? Need a boost of inspiration?
The Completent Content Ideas Kit is an interactive scrapbook with a huge range of different content ideas and packed with examples that can give you the creative boost you need.
These ideas cover videos, blogging, social media and more – a perfect way to always deliver exciting, compelling content that your audience will love!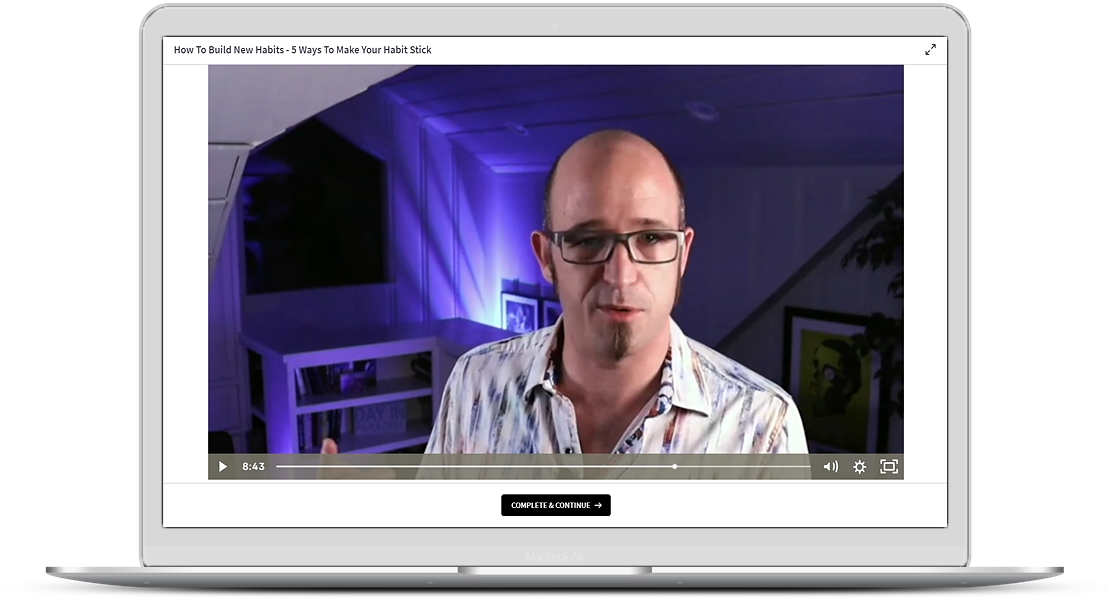 Now All This Must Be Really Expensive, Right?
WRONG…

But I see why you would think that because…

… if you were buying a course for each content and social media platform out there (such as blogging, YouTube, podcasting etc), you'd spend close to $1000 per course…

….so if you bought a course on building your audience with Facebook, and later decided you should also start a Youtube channel, a Podcast, or a Blog you'd have to buy other courses or pay coaches and consultants to update your content strategy …

And if I was to deliver all this content 1-on-1 it would cost you over $6000, (this doesn't include the preparation time and creating the materials, worksheets, quizzes, and more.)
Ultimately you could spend up to $10,000 just to get all the information you'll get with the Complete Content Course.

But today you'll get access to this course for less than half an hour of my 1-on-1 consulting fee:

And here's my 60 Day, 100% Money Back Guarantee

This is really important, and here's why:
Every day I hear from my clients that creating valuable content and building a solid relationship with their followers has been the single most important thing they've done to build an audience and a sustainable online brand…
And while I'm absolutely certain that you'll feel the same way once you go through my roadmap…
I also know that in today's society of big promises and over-the-top-hype…
Talk is cheap.

That's why I want to put my money where my mouth is…
By offering you the opportunity to try and go through the Complete Content Course for yourself for the next 2 months…
If you decide you want a refund 50 minutes or 50 days days after you buy it…no problem.
This way there is absolutely no financial risk whatsoever.
Simply click the button you see below that says "Get Access Now"…
And access the Complete Content Course right now.
Then, I want you to dive into the course, and go through each lesson as if I was consulting you personally.
I'm positive that once you do this, you'll feel AND see exactly how to produce content which will build an engaged, loyal and ever-growing audience, no matter the strategy, the platform, or content medium you choose…
I believe that even after you've gone through the course you'll find yourself looking back and seeing what a great decision you made…
But if for any reason I'm wrong…
If you don't get what you've paid for and fail to gain clarity…
Then you don't pay a dime.
Simply mail me at [email protected]…and I'll refund your purchase with no questions asked.
That's every single penny back to you.
And the only reason I'm able to offer such a bold guarantee…
It is because I know the course offers enormous value for a very reasonable price.
Still, though, isn't it nice knowing that you can get your money back?
So Go Ahead And Click The Button You See Below Right Now…
And Get Access to The Complete Content Course Now


Secure Checkout   ·   On-demand, lifetime access
You've Reached A Fork In The Road,
 And Which Path You Take Is Up To You
So, ultimately the choice is yours…
 You can ignore everything you've seen today…
The incredible chance to build an audience which will support your brand, your business, and your content…
The fact that you could finally have a system that can result in leads, sales, referrals, brand support, community growth, and much more. …
If that's the choice you make – to not take action today…
Then there are no hard feelings, and I wish you all of the best…
But just think about what life will be like in a few months, or even a few years from now…
Imagine the next time it's late at night, and you're awake in bed, staring at the ceiling…
With the fears and anxieties about why your audience isn't growing…
… and why all your effort never adds up to concrete measurable results…
Won't you think back to this moment…
When you had the chance to build your content strategy by applying the same principles the world's largest organizations use…
Before you had committed to a decision…
And feel just a little bit of regret that you didn't look into this course risk-free today?
If the answer is even a "maybe"…
Then I would strongly urge you to take that second, smarter path…
Which is to say "YES" to the Complete Content Course right now…
To click the button that says "Get Access Now" and sign up for this course…
Your decision today is covered by a full 60 Day, 100% Money Back Guarantee…
So you truly have nothing to lose…
Only the opportunity to start on a journey that can help get you to where you want to be faster, cheaper, and with less stress.
Ultimately the decision is yours…
But I trust you'll make the right choice.
Thank you so much for spending your time with me today…
And I look forward to hearing about your success using the Complete Content Course.
Thanks,
Jono Bacon


Secure Checkout   ·   On-demand, lifetime access
What payment types do you accept?
You can purchase the course with all major credit cards (including Visa, Mastercard, American Express).
You can also purchase with PayPal.
How long do I have access to the course for?
There is no expiration date for access to the course. You can access the course whenever you like.
What software do I need to use the course?
No software is required. Everything works within your browser on desktop, tablet, and mobile.
How does your refund policy work?
It is very simple. 

If you are unhappy for any reason in the first 60 days of your purchase, Please just drop me an email  and I will provide you with a full refund. No questions asked.
How can I provide access to my colleagues to the course?
Each purchase of The Complete Content Course provides access for a single seat.
If you want to provide access to your colleagues, I offer bulk discounts. Please just drop me an email to discuss this further.
How long does it take to complete the course?
It depends on how quickly you proceed through the course. Some students have completed the course in just a few days. Some have taken a few weeks. The good news is that you can proceed at your own pace.
As a general rule of thumb, I recommend you spent at least 30 minutes a day with the course – this will then provide a consistent way to work through it.
Which devices can I use the course on?
The course is available in any web browser and you can access it via your desktop/laptop computer or via your phone or tablet.
What format are the worksheets, cheatsheets, and templates in?
All the worksheeta and cheatsheets are available in PDF format. Free PDF readers are available to view and print these files.
Additional templates are available in Excel, OpenDocument, and Apple Numbers formats.
When can I access and use the course?
The course is available 24 hours a day, 7 days a week. You are welcome to access it whenever you are ready to dig in.
How do I receive my digital course completion certificate?
When you have completed all the lessons in the course you will recieve your digital course completion certificate. This will be available for you to download as well as share with others.