Last year a new project hit Kickstarter called Mycroft that promises to build an artificial intelligence assistant. The campaign set out to raise $99,000 and raised just shy of $128,000.
Now, artificial intelligence assistants are nothing particularly new. There are talking phones and tablets such as Apple's Siri and Google Now, and of course the talking trash can, the Amazon Echo. Mycroft is different though and I have been pretty supportive of the project, so much so that I serve as an advisor to the team. Let me tell you why.
Here is a recent build in action, demoed by Ryan Sipes, Mycroft CTO and all round nice chap:
Mycroft is interesting both for the product it is designed to be and the way the team are building it.
For the former, artificial intelligence assistants are going to be a prevalent part of our future. Where these devices will be judged though is in the sheer scope of the functions, information, and data they can interact with. They won't be judged by what they can do, but instead what they can't do.
This is where the latter piece, how Mycroft is being built, really interests me.
Firstly, Mycroft is open source in not just the software, but also the hardware and service it connects to. You can buy a Mycroft, open it up, and peek into every facet of what it is, how it works, and how information is shared and communicated. Now, for most consumers this might not be very interesting, but from a product development perspective it offers some distinctive benefits:
A community can be formed that can play a role in the future development and success of the product. This means that developers, data scientists, advocates, and more can play a part in Mycroft.
Capabilities can be crowdsourced to radically expand what Mycroft can do. In much the same way OpenStreetmap has been able to map the world, developers can scratch their own itch and create capabilities to extend Mycroft.
The technology can be integrated far beyond the white box sitting on your kitchen counter and into Operating Systems, devices, connected home units, and beyond.
The hardware can be iterated by people building support for Mycroft on additional boards. This could potentially lower costs for future units with the integration work reduced.
Improved security for users with a wider developer community wrapped around the project.
A partner ecosystem can be developed where companies can use and invest in the core Mycroft open source projects to reduce their costs and expand the technology.
There is though a far wider set of implications with Mycroft too. Much has been been written about the concerns from people such as Elon Musk and Stephen Hawking about the risks of artificial intelligence, primarily if it is owned by a single company, or a small set of companies.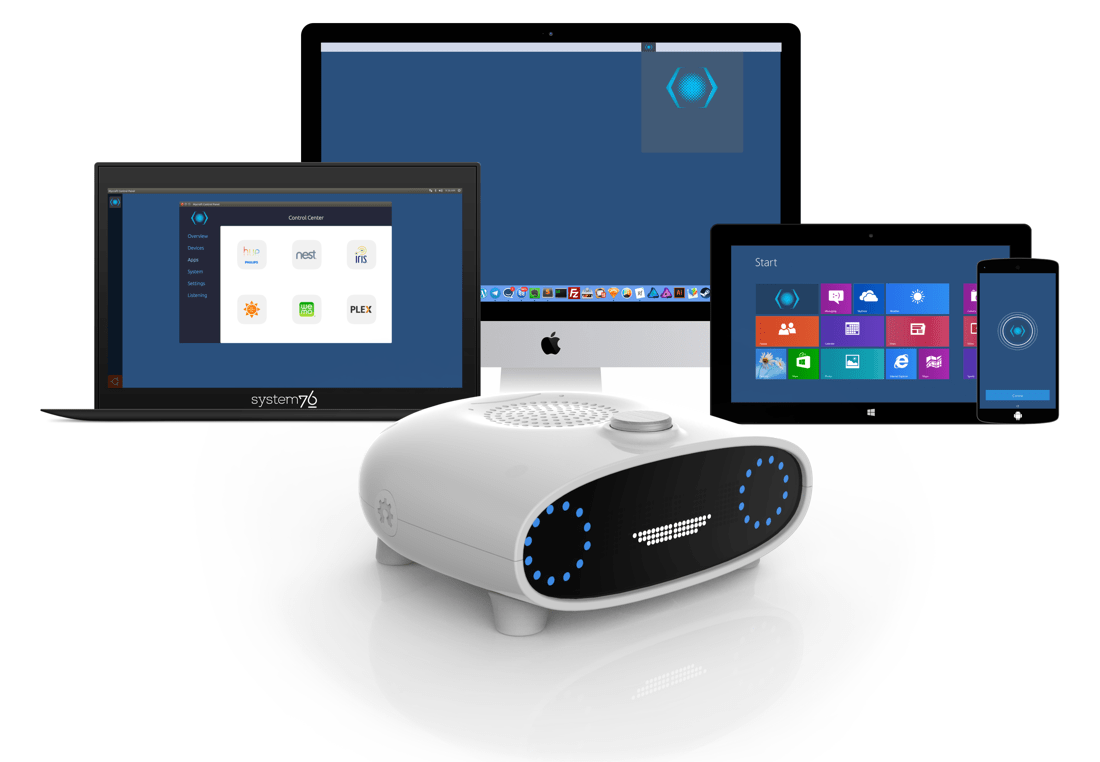 While I don't think skynet is taking over anytime soon, these concerns are valid and this raises the importance that artificial intelligence is something that is open, not proprietary. I think Mycroft can play a credible role in building a core set of services around AI that are part of an open commons that companies can invest in. Think of this as the OpenStack of AI, if you will.
Hacking on Mycroft
So, it would be remiss if I didn't share a few details of how the curious among you can get involved. Mycroft currently has three core projects:
The Adapt Intent Parser converts natural language into machine readable data structures.
Mimic takes in text and reads it out loud to create a high quality voice.
OpenSTT is aimed at creating an open source speech-to-text model that can be used by individuals and company to allow for high accuracy, low-latency conversion of speech into text.
You can also find the various projects here on GitHub and find a thriving user and developer community here.
Mycroft are also participating in the IBM Watson AI XPRIZE where the goal is to create an artificial intelligence platform that interacts with people so naturally that when people speak to it they'll be unable to tell of they're talking to a machine or to a person. You can find out more about how Mycroft is participating here.
I know the team are very interested in attracting developers, docs writers, translators, advocates, and more to play a role across these different parts of the project. If this all sounds very exciting to you, be sure to get started by posting to the forum.