A few weeks ago I announced my brand new book, 'People Powered: How communities can supercharge your business, brand, and teams', published by HarperCollins Leadership, and available on 12th November 2019.
One of the challenges in writing a book such as 'People Powered' is selecting stories, examples, and case studies to include in the book. While I included stories from Joseph Gordon-Levitt, Jim Whitehurst, Ali Velshi, Alexander van Engelen, Jim Zemlin, Peter Diamandis, and others, the world of community building is far more expansive and diverse than these stories alone. There are thousands of examples and learnings out there in incredible communities being built by a broad range of people and backgrounds.
Some of these stories I am featuring on my podcast, Conversations With Bacon (such as Emily Musil Church from XPRIZE and Kate Drane from Techstars), but I also want to share these stories here on my blog too, especially from underrepresented groups across a broad range of industries and experience. There are so many fantastic people out there doing this work and I can use my website and platform to do a better job in helping to share some of these stories.
As such, I am kicking off a series of interviews here on my blog called People Powered Voices. These interviews are designed to augment the stories and examples in the book to provide a more comprehensive set of material for you all to pull from. I am also linking these from the Resources section of my website (which I repeatedly reference in 'People Powered' as a source of additional material, templates, and content that expands on the book). This extra material will be available soon.
So, let's get this party started, and I am really excited about my first interview…
Whitney Bouck, COO of HelloSign
Whitney Bouck is one of the most incredible people I have met in my career. Previously running marketing at EMC and Box, Whit has also advised numerous of companies in her work as an advisor with the YCombinator continuity fund.
I first met Whit at a conference my wife, Erica, and I joined in Hawaii. This conference included a set of attendee-driven discussion sessions where attendees shared their experience on a wide variety of topics related to running businesses.
Whit's contributions all had a common theme: the importance of unlocking potential in the people inside and outside of a company. As I discovered more about her work, and as we became friends, it has been fascinating to learn about her approach and experience.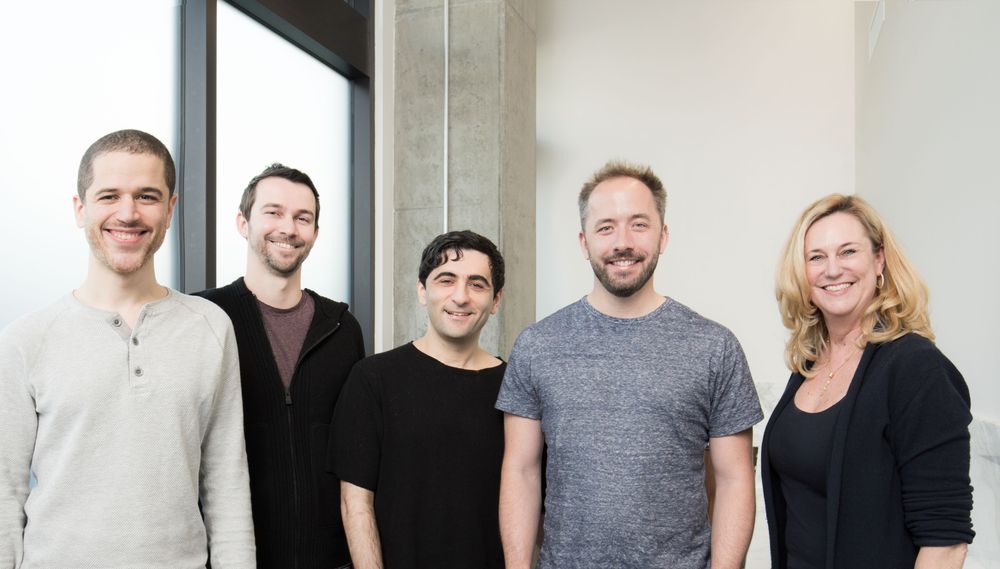 Whit is part of the HelloSign leadership team, which is now a part of Dropbox (when they were acquired back in February). HelloSign still runs as a separate business and her role as COO is to oversee the go-to-market functions (sales, marketing, business development, customer support/success) as well as finance, legal and strategic planning functions.
Importantly though, Whit is deeply involved in how the various communities at HelloSign are shaped.
When I think of the HelloSign community, I think of an onion—multiple layers that build on one another to create a whole that is greater than the sum of the parts.
Like many other organizations, HelloSign has focused a chunk of their community strategy in building a community of integration partners. This enables HelloSign to be integrated tightly into the workflow of their customers. This includes integrations with Google Docs, Zapier, Box, Hubspot, Slack, and others.
No software solution is an island…it must connect with and work with the other systems within a company. By building strong relationships and integrations with our partners, we build an ecosystem to support the ways our customers use our solutions. By leveraging this ecosystem, we're also able to incorporate our customers' technologies of choice into our solutions, ensuring we're providing the best value possible to the customer.
These kinds of integration communities can be powerful, but a discussed in 'People Powered', I refer to these as a Collaborator model community, of the Outer type. Building these effectively requires a careful balance of targeted personas, clear developer onramps, documentation, and places for developers to get help.
Unsurprisingly, Whit is also passionate about their customer community.
Customers make up a key layer of our HelloSign community. We invest a lot of time in creating spaces for them to come together to share best practices, tips, and tricks as well as learn about new features that allow them to streamline workflows and have a great experience with our products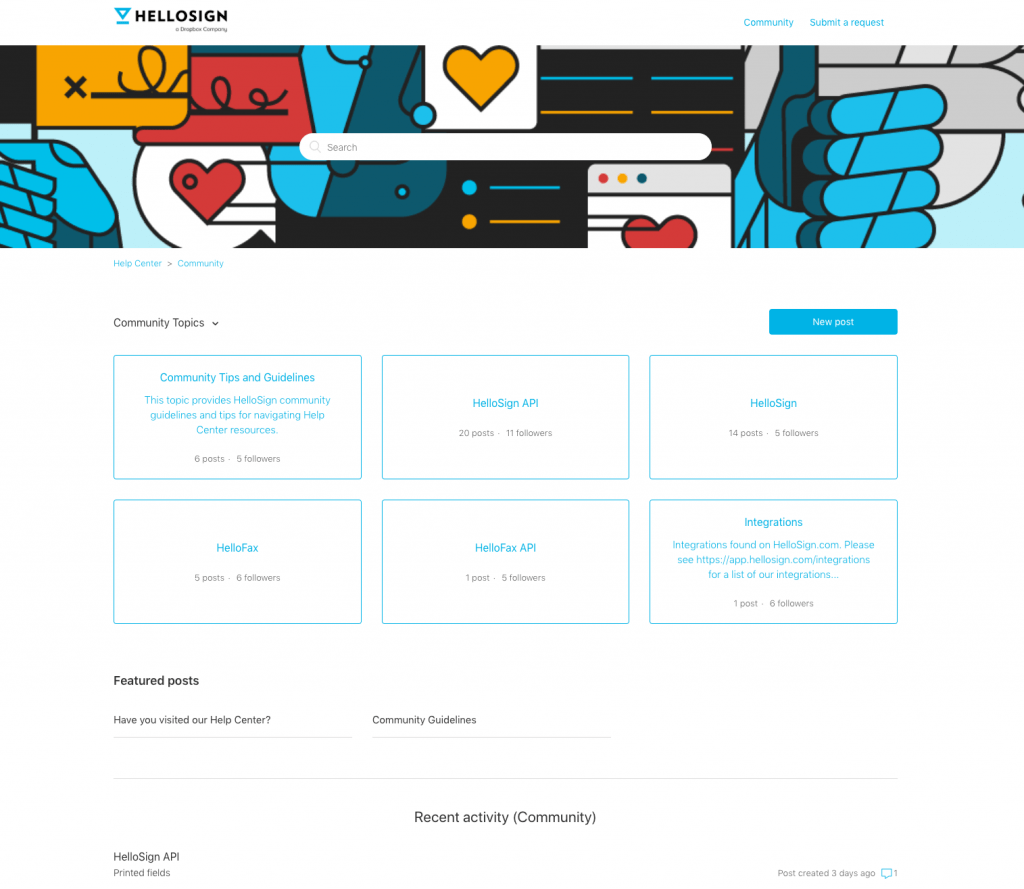 While many organizations would stay focused purely on this existing work, HelloSign has also been eager to explore other types of communities, most notably in skills development of their customers beyond their product.
One of the great examples that I'm really proud of was a thought leadership program we ran all of last year called Digital Strength. The goal of the program was to give everyone within an organization, from the C-Suite to individual contributors, the guidance to better understand and achieve digital transformation (that elusive digital nirvana every company is striving for!). Every month, we delivered a different 'chapter' with a live webinar, a white paper, a video and much more, giving people the skills and plans needed to accelerate their own digital journey. Naturally, our intent was to not only be helpful, but to bring people together who share the mission of digital transformation— a community focused on a common goal who can not only benefit from our insights but also from each other.
The program was a huge success, with thousands of participants, 15% of whom were from Fortune 2000 companies. The sheer number of sign-ups was a clear indicator that people were looking to learn from shared experiences.
The program ran in 2018, but is still available to anyone who is interested, offering full access to methods and techniques that can be used to create and measure digital transformation projects.
Lessons Learned
I am always eager to get a sense of what key lessons people such as Whit would pass on to my readers who are pursuing an interest or career in community strategy. She started with the importance of building purpose.
It is important to recognize that community for community's sake will not be successful. A true community is built off of common interests, missions or goals. True communities often form organically; they are not a quick-fix solution to a weak culture or lack of diversity. Shared experiences, interests and motivations are the elements that create a strong, replenishing community—and often are the same elements that pull like-minded individuals together of their own volition and need. Many nonprofits have grown across generations and dynamic social climates because of people's passion for their cause.
Across these different communities, Whit has also observed something that many successful organizations love about communities: glueing together a network of minds, packed with experience, ideas, and potential.
I've also learned that strong communities are self-perpetuating. They build upon themselves. Members draw from each other, starting a domino effect based on shared attitudes, interests or goals. This creates the potential for mass expansion and growth, especially within communities that value shared experiences and learning. Think about social media platforms that seemingly blew up in popularity overnight, or global movements of individuals gathering in like-minded celebration or protest. ]
Finally, Whit shared that any community, be it internal, focused on partners, or a customer community, needs care and feeding.
It is important to remember that communities need to be nurtured. Some of the healthiest communities I have seen or been a part of have a consistent influx of fresh ideas, new contributions and new members, all of which provide ongoing value and new perspectives for everyone in the community.
Thanks, Whit, and keep up the great work!