Conversations With Bacon shines a light into the thinking, approach, and work of a diverse range of guests across business, technology, entertainment, and beyond. It is presented by Jono Bacon, who puts the Bacon in Conversations With Bacon.
New shows are released every three weeks.
Kate Drane from Techstars (and previously Indiegogo) comes on to talk crowdfunding, supporting startups, expanding access to funding and information, innovation growth, craft beer, and more.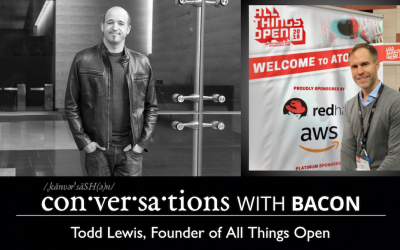 Todd Lewis, founder of All Things Open comes on to discuss what goes into great events, how to get the right balance of content and taking care of sponsors, building an open marketplace of (often contrasting) ideas, and what Todd has learned over the years as he has refined his craft.