A little while ago I announced my brand new book, 'People Powered: How communities can supercharge your business, brand, and teams' published by HarperCollins Leadership, and released on the 12th November 2019.
At the core of 'People Powered' is a pragmatic business book designed to provide (1) an overview of the sheer potential and value of communities for an organization, (2) how to approach building a set of target personas, shaping a community journey, coordinating events, building meaningful incentives and baking all of this into a practical strategic plan, and (3) how to integrate this into a company, track the work well with a set of maturity models, and make consistent improvements.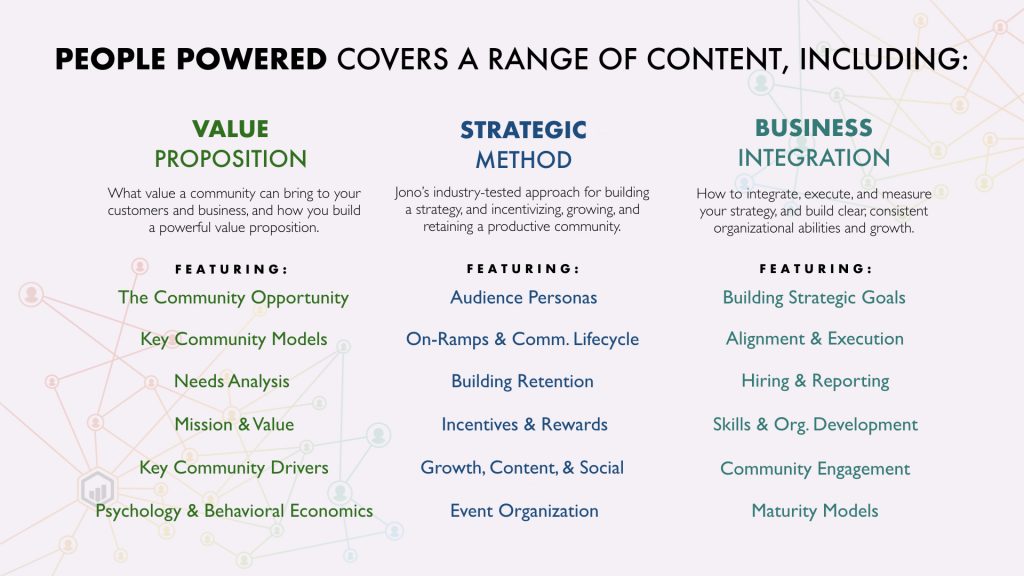 So, here's the deal.
Many companies run internal directed learning initiatives where they buy books for their employees and then provide webinars and additional learning/materials to support their team reading the book and soaking up the core approaches and principles in it. It is a fantastic way to not just build skills for your organization and team members, but a fun and empowering way to bring team members together, and importantly, to learn together.
Well, unsurprisingly, I want to offer this for 'People Powered'. This is a book ripe for these kind of learning initiatives: while it provides a high-level overview of the value of community across many industries, the book delves deep into a set of pragmatic approaches, frameworks, and models for building amazing communities.
I want to provide opportunities to deliver this kind of directed learning in a cost-effective way and with hands-on guidance from myself. As such, I excited to share my People Powered Bulk Order Packages.
How they work
In a nutshell, depending on how many copies of 'People Powered' you purchase, you will get a significant bulk order discount, all (hardback) copies of the book are personally signed by myself, you will get access to a comprehensive knowledge base, and I will provide direct, 1-on-1 engagement with your organization and team members.
These different perks are included at different levels, depending on the number of copies sold, and I am not charging any extra fees for the hands-on time: it is all included in the package. You only pay for the books.
These bulk orders are entirely customizable too. For example, I just signed an order with a company for 100 copies and I am providing them with an on-site fireside chat at their office in Silicon Valley, and a follow-up discussion after their team has had an opportunity to read the book.
Another company has purchased 500 copies and I am providing a series of webinars where the team can ask questions at different phases of reading 'People Powered'. For example, the team will read chapters 1 – 3 first and then I will provide a Q&A webinar session. Then, they will read chapters 4 – 6, and I will provide another session, and so on. This provides an opportunity to not just get clarity on the material, but also for me to augment it with additional recommendations and insight.
Take a look at the bulk order packages, and feel free to get in touch if you have questions or want to discuss something more specific for your organization.
How People Powered Can Benefit Your Organization
I am really proud of 'People Powered'. I believe it provides the most comprehensive, clear, and strategic book available for harnessing the power of great communities for any organization.
The book doesn't just outline the potential of communities, but it provides a simple to read, yet pragmatic and focused blueprint for building a wide variety of communities, from fans, to support, to engineering, and beyond.
For a more in-depth overview of what is in the book, see the video below:
Also, 'People Powered' has received enthusiastic endorsements from a number of leaders in their respective industries:
Nat Friedman – CEO of GitHub
Jamie Hyneman – Co-Creator and Host of Mythbusters
Jamie Smith – Former Deputy Press Secretary for President Barack Obama
Kevin Scott – CTO of Microsoft
Villi Iltchev – General Partner of August Capital
Uttam Tripathi – Head Of Global Programs and DevRel Ecosystem at Google
Gia Scinto – Head Of Talent at YCombinator
Jim Whitehurst – CEO of Red Hat
Ali Velshi – Anchor on MSNBC
Jim Zemlin – Executive Director of The Linux Foundation
Whitney Bouck – COO of HelloSign
Mårten Mickos – CEO of HackerOne
Juan Olaizola – COO of Santander España
Jeff Atwood – Co-Founder of Discourse and StackOverflow
Angela Brown – General Manager of Events at The Linux Foundation
Dries Buytaert – Founder of Drupal and Acquia
Paul Salnikow – CEO of The Executive Centre
Ben Uretsky – Co-Founder of DigitalOcean
Billy Cina – Co-Founder and CEO of MarketingEnvy
Maxx Bricklin – Co-Founder of BOLD Capital Partners
Jose Morales – Head Of Field Operations at Atlassian
Maria Sipka – Co-Founder of Linqia
Nithya Ruff – Senior Director of Open Source at Comcast
Michael Skok – Founding Partner of Underscore.VC
Giorgio Regni – CTO of Scality
Tracy Ragan – CEO of DeployHub
Paul Bunje – Co-Founder of Conservation X Labs
Ryan Bethencourt – CEO of Wild Earth and Partner at Babel Ventures
Of course, if you have any questions about how can shape your specific internal education initiative, get in touch. Thanks!